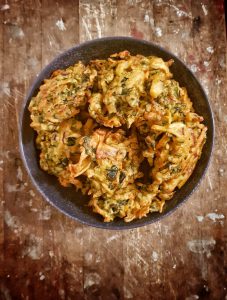 From Brussel sprouts to cauliflower, carrots to spinach, if you've got a few bits and pieces in the veg drawer that need using up, vegetable pakoras are a great option for something a bit different to the usual soup and stir fry.
I like to serve pakoras alongside a curry to tempt my children into embracing the meal. Crispy things are usually a winner!
I find that a wok works well for the deep frying but a deep saucepan will also be good.
Makes 5-6
| | |
| --- | --- |
| Ingredients | Equipment to have ready |
| 2 cups of veg, finely chopped, shredded or grated depending on the veg | Large mixing bowl |
| 1 tsp turmeric powder | Teaspoon measures |
| 1 tsp ground cumin | Cup and half cup measures |
| 1 tsp ground coriander | Measuring jug |
| 1 tsp ground paprika | Wok or deep saucepan for frying |
| 1/4 tsp asafoetida (optional) | Spoon |
| 1/4 tsp chilli powder (optional/to taste) | Slotted spoon |
| Salt and pepper | Baking tray |
| 1/2 cup gram flour | Kitchen paper |
| 120ml cold water | |
| Vegetable oil for frying | |
Method
Put the veg in a large mixing bowl, add the spices, a pinch of salt and a good grinding of black pepper then mix well.
Tip in the gram flour and stir to coat the vegetables.
Pour in the water and stir to create a batter, ensuring all of the flour has been combined with the water.
Heat enough oil in a deep pan or wok for deep frying, filling the pan no more than half way.
You can test whether the oil is hot enough by dropping in a little batter, the oil will create lots of bubbles immediately when hot.
Put spoonfuls of the mixture into the oil to fry, frying just two or three at a time depending on the size of the pan. Fry until golden and crisp on one side and then turn over to fry the other side.
Remove from the oil with a slotted spoon and place on a baking tray lined with kitchen paper whilst you fry the rest.
Eat immediately whilst still crisp.