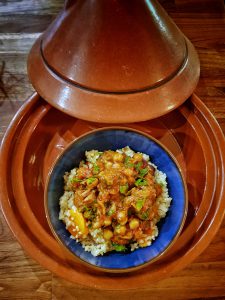 I think that a tagine is a stew you can get away with serving at any time of year. A great one-pot slow cook bursting with flavour and simply served with fluffy couscous, the quickest meal accompaniment available. You might also want have this with some roasted vegetables and toasted almonds.
I'm not a fan of fruit in savoury dishes, but a tagine without fruit just isn't the same. I choose to chop mine up finely so that they melt away into the sauce, imparting their flavour into the sauce without those bursts of sweetness you get from biting into one.
You could try adding a squeeze of harrisa or some chilli powder when adding the other spices to the pan, if you want a little kick.
I cook this in a pan on the hob but you could use the slow cooker.
Serves 4
| | |
| --- | --- |
| Ingredients | Equipment to have ready |
| 1 tbsp olive oil | Chopping board |
| 500g diced lamb shoulder works well, remove big pieces of fat | Sharp knife |
| 1 onion, finely chopped | Casserole pan |
| 2 cloves garlic, finely chopped | Measuring spoons |
| 1 tsp ground cinnamon | |
| 1/2 tsp ground cumin | |
| 1 tsp ground coriander | |
| 1/2 tsp turmeric | |
| 1 tsp paprika | |
| 1 tsp honey | |
| 2 preserved lemon, pips removed and roughly chopped | |
| Parsley, small handful, stalks finely chopped and leaves set aside | |
| 4 dates, finely chopped | |
| 400g tin of chopped tomatoes | |
| 1/2 tin of lamb or beef stock | |
| Pinch of saffron | |
| 400g tin of chickpeas | |
| Handful of mint leaves, finely chopped | |
| Salt and pepper | |
Method
Heat the casserole and oil over a high heat then cook the lamb until brown all over.
Turn down the heat and add the onion and garlic. Cook until the onion softens.
Next add the spices and stir for a minute to cook out without burning.
Now add the honey, preserved lemons, parsley stalks, half the mint, dates, tomatoes, stock, saffron and chickpeas and give it a good stir. Season with salt and pepper.
Bring to the boil then reduce to a simmer. Leave it to cook with the lid on for a couple of hours, or as long as you can for the meat to become tender and fall apart with a spoon.
Taste and adjust the seasoning as necessary and serve sprinkled with the rest of the chopped mint and parsley leaves.