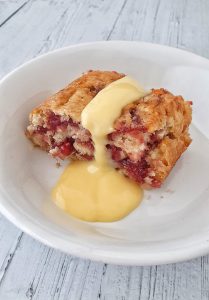 Jam roly poly just like mum used to make. Cheap as chips, rib sticking and as comforting as my memory serves me.
Only difference is that I served it with custard from a carton (I could have made fresh custard but this deserves shop bought!) and mum would have always made Bird's custard using powder from a tin!
Does it bring back good memories for you too or just the memory of school custard with a wrinkly skin on top?!
Serves 4
| | |
| --- | --- |
| Ingredients | Equipment to have ready |
| 200g self-raising flour, plus extra for rolling out | Mixing bowl |
| 100g suet (original or vegetable) | Measuring spoons |
| 1 dessert spoon caster sugar | Dessert spoon |
| Water | Roasting tray with rack |
| Raspberry jam (or other jam of your choice) | Greaseproof paper |
| Brown sugar | Tin foil |
| | Table knife |
Method
Pre-heat the oven to 140C (fan).
Put the flour, suet and sugar in a mixing bowl and mix together.
Pour in a little water and mix using a table knife. Gradually add a little more water at a time, mixing with the table knife until it starts to come together as a ball of dough. If it's a little too sticky mix through a little more flour.
Tip out onto a floured surface and gently press out into a rectangle.
Spread with raspberry jam then roll up like a Swiss roll (rolling up from the short side).
Wrap loosely in greaseproof and then in tin foil. Put on a rack in a baking tray with water underneath and bake in the oven for an hour.
Open up the wrapping, sprinkle over a little brown sugar and bake for 15-20 minutes until golden and crispy on top.