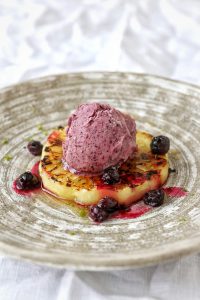 Showcasing banana ice cream, our favourite way to enjoy those bananas in the fruit bowl which have gone black and soft, that nobody will touch. I am now in the habit of freezing any bananas that are past their best so that we always have banana at the ready for ice cream.
I use fresh pineapple for this recipe, but you could use tinned pineapple rings.
The recipe serves six, but the ice cream keeps in the freezer for a day or so, so you don't need to eat it all at once. Also, once prepared, you can keep the pineapple in the fridge in an airtight container for a couple of days
Serves 6
| | |
| --- | --- |
| Ingredients | Equipment to have ready |
| For the ice cream: | Food processor |
| 2 very ripe bananas | Spatula |
| Approx. 1/3 bag frozen blueberries (around 125g) | Spoons |
|   | Microwavable bowl |
| For the stewed blueberries: | Chopping board |
| 2 large handfuls frozen blueberries | Sharp knife |
|   | Heavy bottom frying pan or griddle pan |
| For the pineapple: | Apple corer (can use a knife if you don't have one) |
| 1 pineapple, peeled | Fine grater |
| Optional extras: |   |
| Zest of a lime |   |
| Maple syrup |   |
Method
If you don't have any slices of banana in the freezer already, the day before you want to make the recipe, you will need to freeze the bananas. Peel them, slice them into coins and lay on a baking tray then put in the freezer.
To make the ice cream, tip the frozen banana and the frozen blueberries into the food processor and blitz. Keep it slow to begin with as the food processor needs to work hard to break down the banana. Stop occasionally to scrape down the sides of the bowl with the spatula so you don't end up with lumps in your ice cream. Continue blitzing until the mixture becomes smooth and starts to come together as a lump.
You could use a spoon to form balls and lay them on a tray if you want yours to look like the one in the picture! Otherwise, transfer to a container or a bowl. Store in the freezer until needed.
To stew the blueberries, put them in a bowl with a drop of water (a few tbsp) and cook in the microwave on full power for around 1.5 minutes, until defrosted and softened. You can, of course, do this in a pan instead.
Slice your pineapple into six thick rings and remove the core with an apple corer (or very carefully with a small sharp knife).
Heat your frying pan or griddle, until very hot and lay in the pineapple. Cook until you have a nice caramelised colour on each side.
To serve, lay a pineapple slice on a plate or in a bowl, put a scoop of ice cream in the middle, dot around some stewed blueberries and make the dish look pretty by sprinkling over some lime zest and drizzling over some maple syrup.