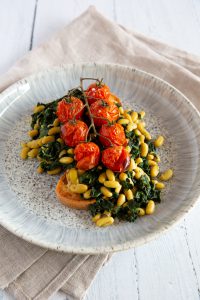 Beans on toast go green!
You could use haricot or cannellini beans, but I think the texture and colour of the flageolet lend themselves best to this dish.
If you're not vegan, this goes really well with some seared halloumi or try it with a grating of Parmesan/Grana Padano.
Recipe developed for Rosie Letts Nutrition.
Serves 2
Ingredients
Vine tomatoes (recommend 6-7 per person)
200g cavalo nero*, stalks removed and shredded
1 clove of garlic, finely chopped
1 tbsp olive oil
400g tin of flageolet beans, drained and rinsed
1/2 tsp Dijon mustard
Zest of 1 lemon, finely grated
Pinch of chilli flakes (optional)
Squeeze of lemon juice
2 slices of sourdough bread
Salt and pepper
Method
Preheat the oven to 200C.
Place the vine tomatoes on a baking tray, sprinkle with salt and pepper and roast for 10-15 minutes, until blistered.
In a large frying pan, cook the cavalo nero in 50ml of water until soft and the water has evaporated. Takes approx. 5-10 minutes.
Add the garlic and olive oil, stir to coat the leaves and continue to cook on a low heat, stirring occasionally for a few minutes, until the raw smell of garlic has gone.
Add the beans, Dijon, lemon zest, chilli flakes, salt and pepper and 100ml water and continue cooking on a low heat for around 5 minutes until the beans break down a little and you get a creamy sauce.
Toast the slices of sourdough.
Finish the beans with a squeeze of lemon juice and serve over the toast with the roasted tomatoes placed on top.
*Try kale or spring greens if you prefer.