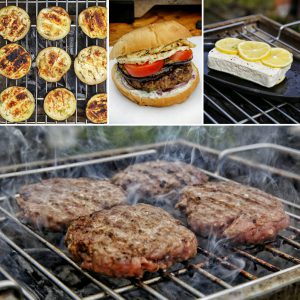 These lamb burgers are inspired by a few classic Greek dishes; moussaka, Greek salad and tzatziki. Best grilled on the BBQ but also good cooked indoors!
Serves 4
| | |
| --- | --- |
| Ingredients | Equipment to have ready |
| 500g minced lamb | Chopping board |
| 1 tsp cinnamon | Sharp knife |
| A few gratings nutmeg | Mixing bowls – large and small |
| 1/4 tsp ground allspice | Teaspoon measure or a teaspoon |
| 1 pack feta | Baking tray suitable for the BBQ |
| Olive oil | |
| 1 lemon | If not cooking on the BBQ: |
| A pinch of dried oregano | Baking tray |
| 1 aubergine, sliced into rings around 1cm thick | Baking dish |
| 2 tomatoes, sliced into rings | Grill/griddle pan or frying pan |
| Red onion, sliced into rings (enough to suit you) | |
| 4 heaped tbsp Greek or Greek-style yoghurt | |
| 1/3 cucumber, grated into tea towel and squeezed | |
| 1 small clove garlic, crushed | |
| Handful of mint leaves, finely chopped | |
| Burger buns/bread rolls of your choice | |
| Salt and pepper | |
Method
Start by preparing the burgers. In a large mixing bowl, mix together the minced lamb, cinnamon, nutmeg, all spice and some salt and pepper. Mix well then pick up the ball of mixture and slap it against the side of the bowl for a couple of minutes. This helps to hold it together when cooking. Form into 4 patties. Leave to rest in the fridge for at least 10 minutes.
To prepare the feta, remove from the packet and place on a baking tray (or in a baking dish for the oven). Season with pepper, sprinkle over the oregano and drizzle with a little olive oil. Cut a few slices of lemon and lay them on top. Cover with foil.
Brush the aubergine slices with olive oil and season with salt and pepper.
Make up the tzatziki by mixing together the yoghurt, cucumber, garlic, mint and some salt and pepper in a small mixing bowl. Keep in the fridge until needed.
When your BBQ is ready for grilling, start by cooking the burgers and place the tray with the feta on the grills. You can cook the burgers inside on a grill/griddle pan or in a frying pan and the feta can be baked in the oven (180C fan) for around 10 minutes.
Once the burgers are cooked, transfer to a plate, cover and keep warm. The feta is cooked when it is warmed through and has softened
Grill the slices of aubergine until lovely and brown. Inside you can bake them in the oven or grill on the hob.
Warm the burger buns on the grill if you wish.
Now you're ready to assemble the burgers; tzatziki, lamb burger, red onion, tomato, grilled aubergine and feta in a bun. Now get messy!