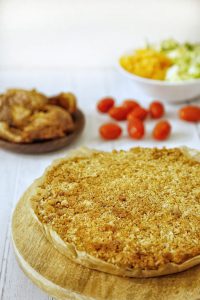 All the joy of a fishcake with none of the faff. Making the fishcake in this way is such a good time-saver.
You can use whatever fish (fresh or frozen) you like for this recipe. Smoked haddock fillets are great as is a mixture of white fish and salmon, or a fish pie mix. You could also use smoked mackerel, smoked salmon scraps or tinned fish.
Serves 4
Ingredients
Equipment to have ready
800g potatoes (approx. 4 medium potatoes)

Something like a Maris piper is best as you want a potato that isn't waxy

Two baking trays
300g approx. fish
Pan or microwavable plate and clingfilm for cooking the fish
1/2 cup sweetcorn (or you could use crushed peas or frozen spinach which has been defrosted and the liquid squeezed out or leave it out)
Large mixing bowl
2 spring onions, finely chopped
Sharp knife
1/2 to 1 tsp chilli powder (optional and to taste)
Dessert spoon
1 tsp Dijon or English mustard
Chopping board
Salt and pepper
Teaspoon measure or teaspoon
Olive oil
Tablespoon measure or tablespoon
5 dessert spoons breadcrumbs
Loose bottom cake tin (approx.24cm)
Greaseproof paper
Method
Ahead of time, bake the potatoes whole in the oven and leave to cool.
Also ahead of time, steam the fish in a pan or in the microwave and leave to cool.
When you're ready to make the fishcakes, preheat the oven to 200C (Fan).
Scoop out the potato from the skins into a large mixing bowl and mash. Put the skins back onto the baking tray and set to one side.
Flake the fish into the bowl with the potato.
Add the sweetcorn (or chosen veg) and spring onions, as well as the chilli powder and mustard then season with salt and pepper (not too much if you're using smoked fish).
Mix well with a spoon.
Line the cake tin with a circle of greaseproof paper and brush the paper with oil.
Sprinkle over half the breadcrumbs then tip in the fishcake mixture and pack it in well with the back of the spoon.
Sprinkle the remaining breadcrumbs over the top and drizzle with olive oil.
Put the cake tin on a baking tray and bake in the oven for 20-30 minutes until golden brown and hot all the way through.
Drizzle the potato skins with a little oil and put in the oven to crisp up.
Remove the fishcake from the tin to serve. If you out a cup upside down on the worktop, you can place the cake tin on top. The outer ring with fall away and you can transfer the base to a board and slide the fishcake off on the paper.