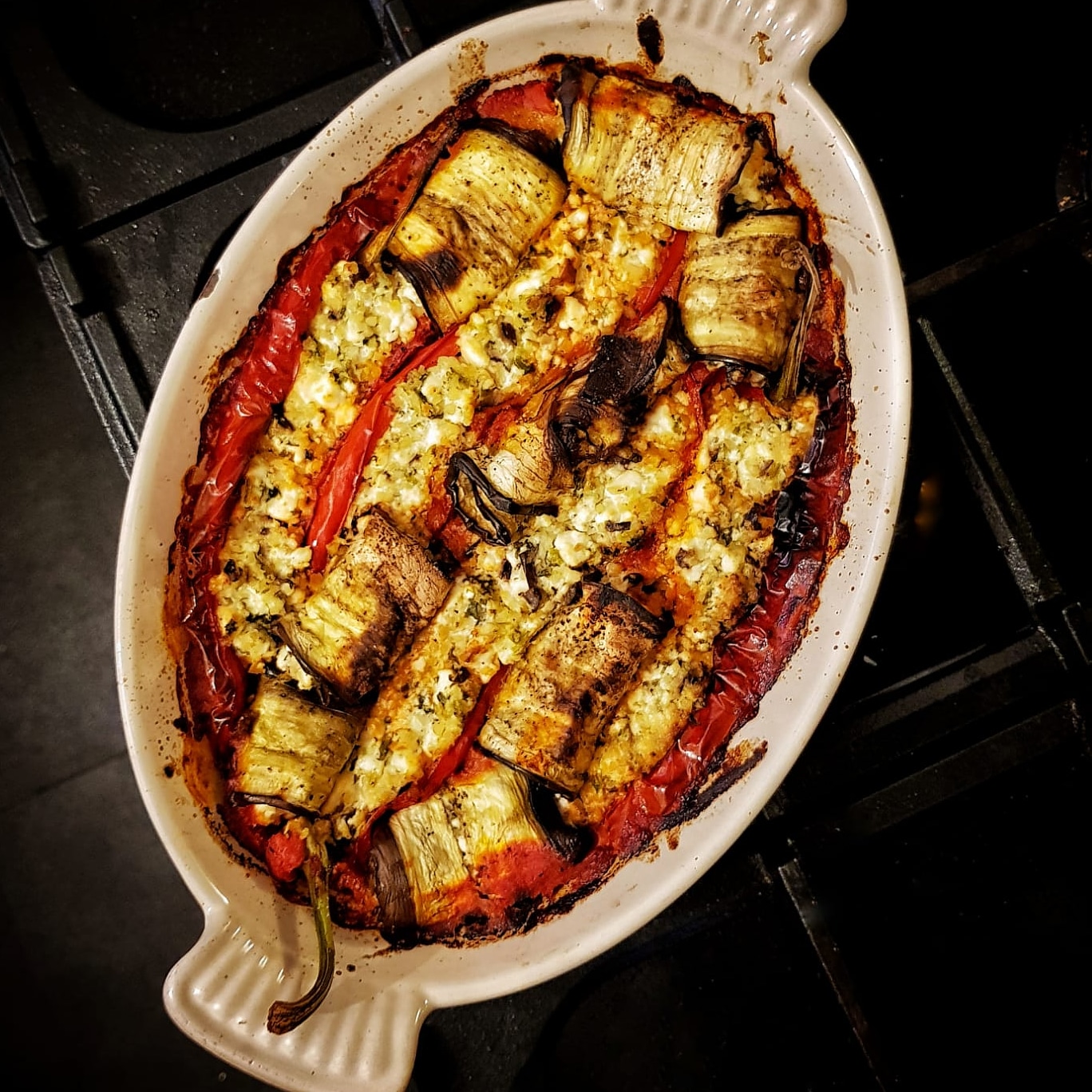 The inspiration for this recipe came from the Italian aubergine and mozzarella dish, parmigiana di melanzane. I use Greek and Middle Eastern flavours and ingredients to create a little less rib-sticking dish. Salty feta and nutty, chewy bulgar wheat combine with the sweet peppers and soft aubergine in a garlicy tomato sauce. A sprinkling of mint at the end brings freshness and vibrancy.
Serves 2
Ingredients
2 Romano peppers
1 aubergine
50g bulgar wheat (or you could use quinoa)
1 pack of feta (approx 200g)
A sprig of fresh thyme, leaves removed from stalk (or a pinch of dried)
Half a tin of tomatoes
1 small clove of garlic, peeled and roughly chopped
Salt and pepper
Olive oil
A few mint leaves
Method
Pre-heat the oven to 180C.
Split the peppers in half, lengthways (it looks good in the finished dish if you can cut through the stalk) and remove the seeds.
Thinly slice the aubergine lengthways.
Lay the peppers and sliced aubergine on a roasting tray (you might need two trays). then sprinkle with salt and pepper and drizzle with olive oil.
Roast for about 30 minutes until soft and leave until cool enough to handle.
Whilst the vegetables are roasting, cook the bulgar wheat in boiling water for about 10 minutes then drain it and run it under cold water to cool it.
Finely chop the end slices of aubergine that are mostly skin.
In a bowl, mash the feta with a drizzle of olive oil.
Stir in the pepper, thyme, finely chopped aubergine and bulgar wheat.
Put a little bit of stuffing at one end of a slice of aubergine and roll up. Repeat with the remaining slices.
Stuff the peppers with rest of the feta mixture.
Blitz the tomatoes with a drizzle of olive oil, the garlic, salt and pepper, using a small food processor or a stick blender.
Pour the tomato sauce into the bottom of a baking dish. Place the peppers and aubergines on top of the sauce.
Bake for 10-15 minutes until nicely coloured.
Sprinkle with the fresh mint which you can simply tear with your fingers.
Serve with garlic bread (homemade with wild garlic butter would be amazing but the bought stuff is just fine) or a flatbread and a green salad.