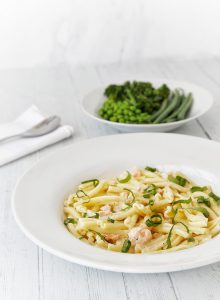 Ready in the time it takes to cook the pasta. How often do you read that and think yeah right?! I know I do.
Well, this time it's true. There's very little prep or cooking involved to get this tasty meal on the table in minutes.
I hunt out the smoked salmon scraps from the fishmonger and supermarket since it doesn't feel right cooking with the best and more expensive slices. Save them for a special meal.
Serve with green veg, such as tenderstem broccoli, greens, green beans and peas. It's also good with spinach and works well with frozen spinach, drop a few cubes into the sauce to defrost.
Serves 2
| | |
| --- | --- |
| Ingredients | Equipment to have ready |
| 150-200g pasta (Strozzapreti, trofie, cavatelli are good ones for this sauce) | Large saucepan |
| 1/2 tbsp olive oil | Small saucepan |
| 1 clove garlic, finely chopped | Chopping board |
| Pinch of chilli powder (to taste) | Sharp knife |
| Salt and pepper | Colander |
| 150ml creme fraiche | Wooden spoon |
| Lemon juice | Mug |
| 1 packet smoked salmon scraps (approx. 120g) | |
| Sprinkling of chopped parsley, chives or wild garlic (optional) | |
Method
Start by boiling the pasta in a large saucepan.
Whilst the pasta is boiling, heat the oil in a small saucepan over a low heat. Add the garlic and cook gently, stirring all the time, for a couple of minutes until the garlic fumes have dissipated.
Add the chilli powder and a good grind of black pepper and cook for a minute, stirring all the time.
Take the pan off the heat and add the crème fraiche, stir well then put the pan back on the heat. Taking it off the heat helps stop the crème fraiche splitting.
Add a little squeeze of lemon juice and stir in the smoked salmon.
When the pasta is cooked, drain it in the colander over a mug to catch some pasta water.
Stir around 50ml of the pasta water into the sauce. Add more if you like it a little thinner. Taste and check for seasoning, adding more lemon, pepper or a little salt if needed.
Pour the sauce over the pasta, add the herbs and combine well before serving.