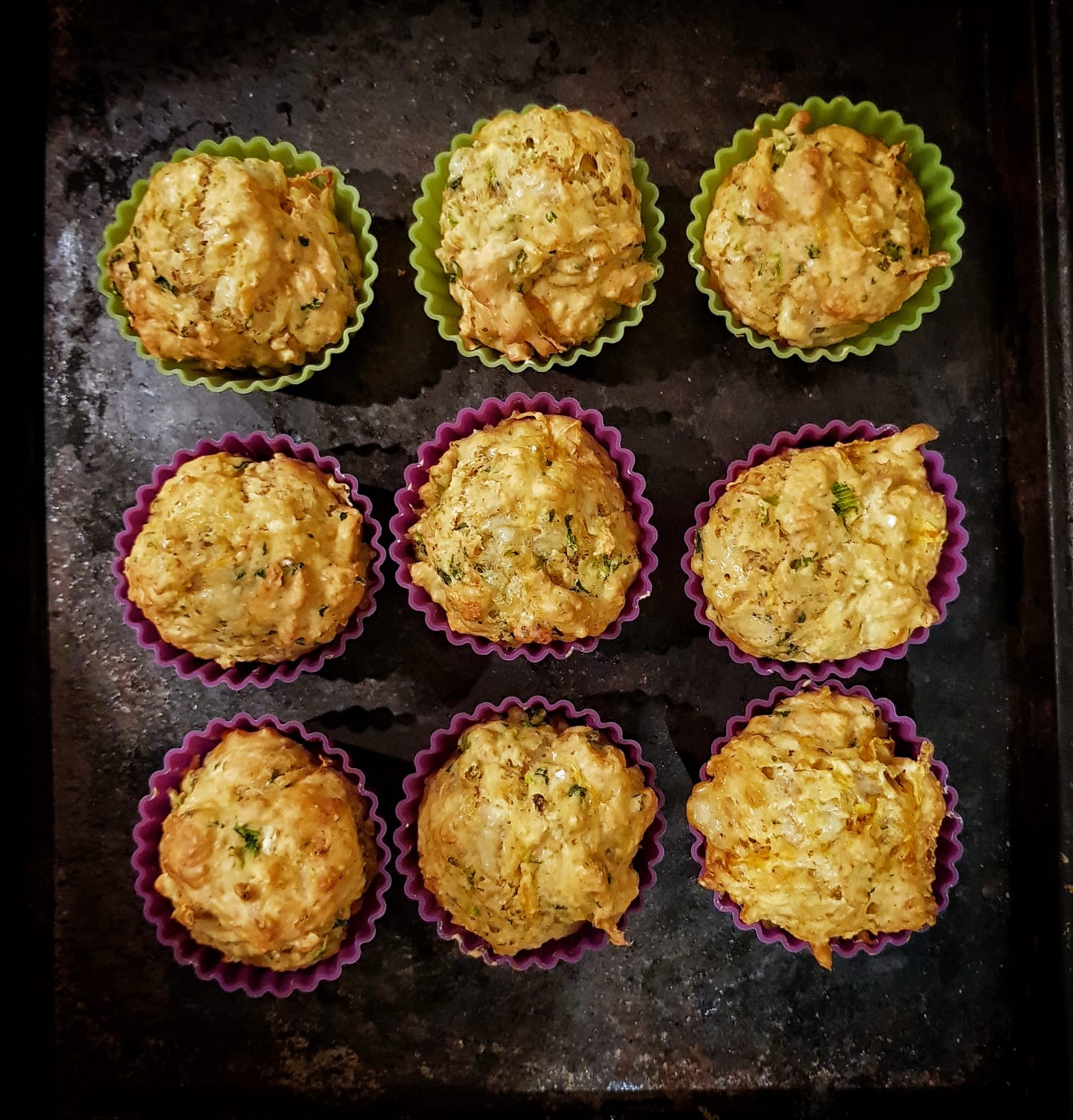 These are great for snacks and picnic lunches. Quick to make and perfect for freezing. Lay out on a tray to freeze before packing into Tupperware or freezer bag to avoid them sticking together.
Without the salt, they make ideal snack foods for babies and toddlers especially if you can get your hands on mini cases. I love the silicone cases for baking muffins.
This recipe is really versatile too, swap out the courgette and spinach for any vegetables you like (carrot, parsnip, celeriac, cauliflower, broccoli are all good contenders). Perfect for using up bits and pieces and getting the veg your children wouldn't normally eat into them. They're never the same twice in our house!
| | |
| --- | --- |
| Ingredients | Equipment to have ready |
| 350g plain or wholemeal flour (or combination of the two) | Muffin cases |
| 3 tsp baking powder | Muffin tin or just a tray to put the cases on |
| 1 tsp smoked paprika or chilli powder | Mixing bowl |
| 2 eggs | Weighing scales |
| 220 ml milk | Large spoon |
| 100g grated cheddar | Grater |
| 3-4 cubes of frozen spinach, defrosted (can do this in the microwave) | Teaspoon measure or teaspoon |
| 1 courgette, grated into a tea towel | Measuring jug |
| Salt and pepper | Tea towel |
Method
Preheat oven to 160°C.
Fold up the corners of the tea towel and squeeze out the liquid from the courgette into the sink.
Mix the flour, baking powder and smoked paprika or chilli powder in a bowl.
Mix in the eggs then the milk. Stir only until the flour is incorporated as you don't want to over-work the batter so the muffins stay light.
Fold in the cheese, spinach and courgette.
Spoon the batter into the muffin cases.
Bake for around 15 minutes until golden. If you press on the top of the muffin, it should bounce back when cooked through.
Leave to cool before eating.