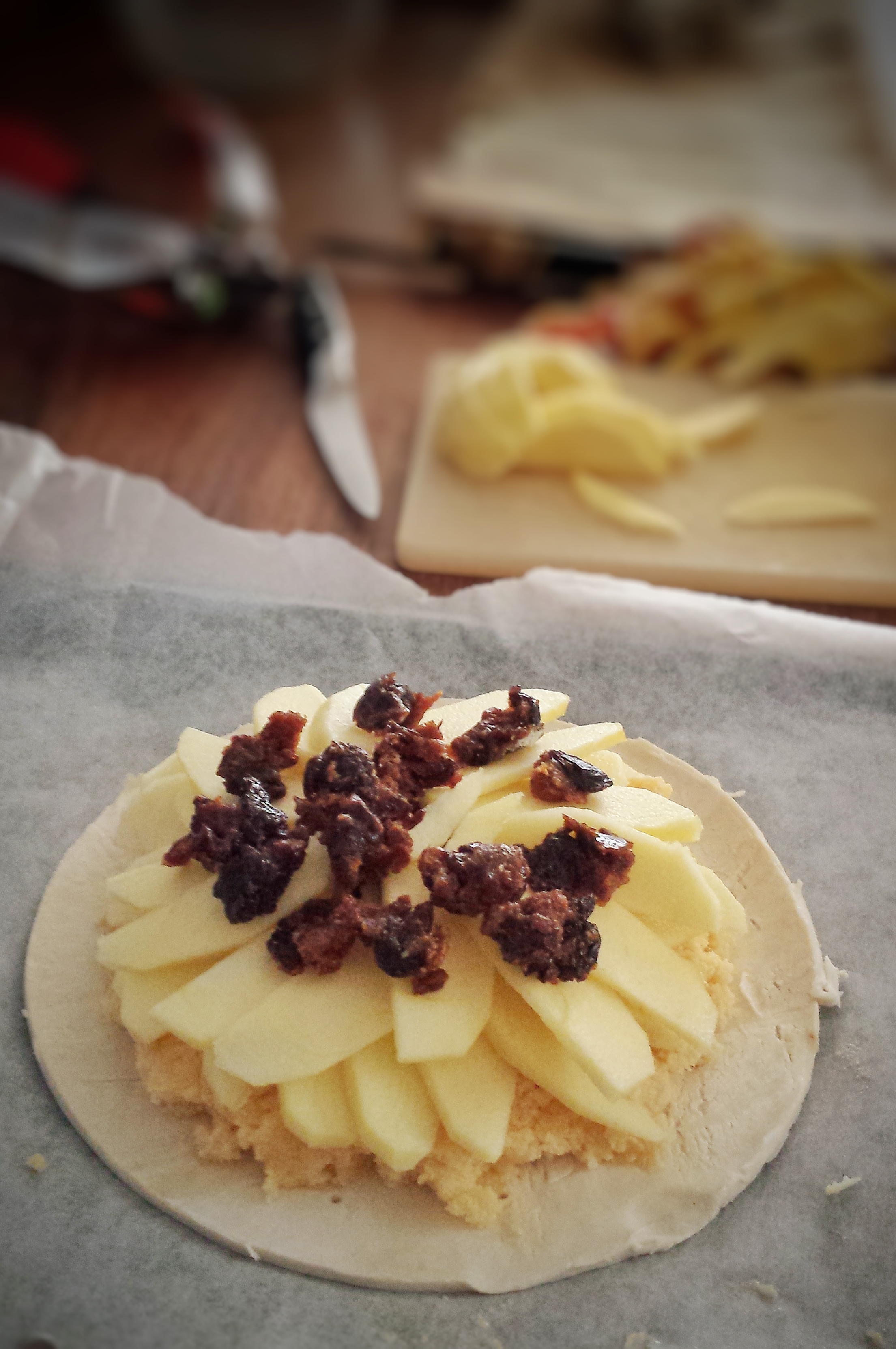 Leftover Christmas pudding but not enough to serve up? Here's a way to stop it going to waste. You really don't need much for this apple and Christmas pudding pithivier.
Pithivier? What's that? It's just a pie with a fancy French name, distinguishable by the round, slightly domed shape and curved knife markings on the top.
A scoop of vanilla ice cream, some custard or some lightly whipped double cream to serve.
Serves 6-8
| | |
| --- | --- |
| Ingredients | Equipment to have ready |
| 75g unsalted butter, softened | Baking tray |
| 75g sugar | Sharp knife |
| 2 eggs, beaten | Large mixing bowl and wooden spoon or food processor |
| 75g ground almonds | Peeler |
| 500g puff pastry | Pastry brush |
| 2 apples, peeled and cored then quartered and thinly sliced | Greaseproof paper |
| Leftover Christmas pudding, crumbled | |
| Drop of milk | |
Method
First make a frangipane by creaming together the butter and sugar, either in a bowl with a wooden spoon or in a food processor. The mixture needs to be smooth and no longer grainy from the sugar.
Mix in the eggs and ground almonds a little at a time until it is well combined.
Roll out the pastry, if it isn't ready rolled, to a few millimetres thick. Cut out two circles of pastry, one a centimetre or so wider all around than the other (I use plates and saucers as cutting guides).
Put the smaller circle of pastry onto a sheet of greaseproof paper on a baking tray.
Spoon the frangipane into the middle of the circle and spread over the pastry leaving a little around the edge free of filling.
Crumble over a little crumbled Christmas pudding, lay on the slices of apple and top with a little more of the Christmas pudding.
Dip your finger in cold water and run it around the edge of the pastry. Place the larger circle of pastry over the top, sealing the two edges with your fingers or a fork.
Chill in the fridge until you're ready to bake.
Preheat the oven to 180C.
Score curved lines into the pastry starting in the centre and working out to the edge. Brush over a drop of milk.
Bake in the oven for around 30 minutes until puffed up and golden.