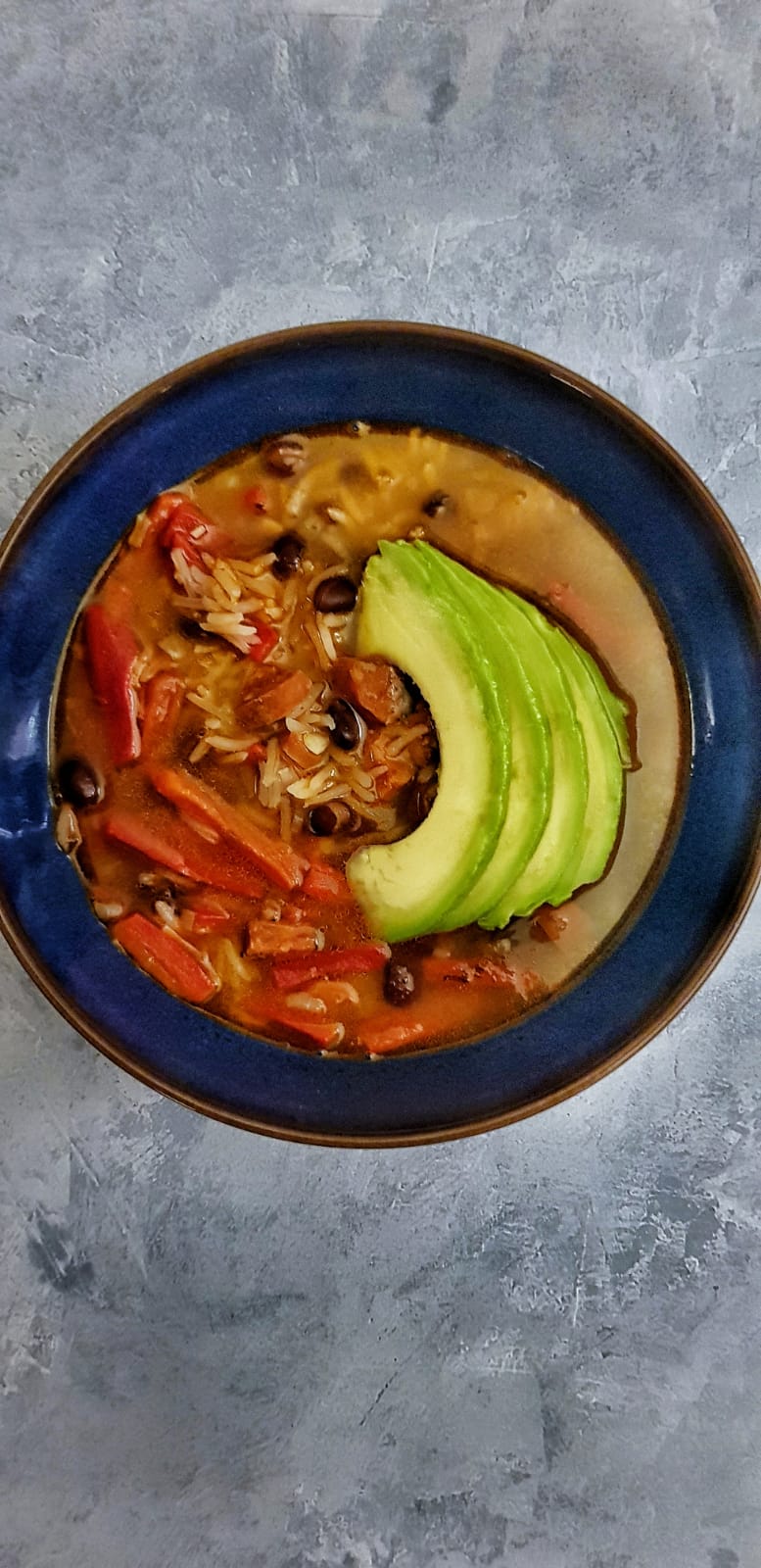 Serves 2
| | |
| --- | --- |
| Ingredients | Equipment to have ready |
| 1/2 onion, finely chopped | Chopping board |
| 1 clove garlic, finely chopped | Sharp knife |
| 1/4 chorizo ring, cut into small chunks | Medium sized saucepan with a lid |
| 1/2 tsp ground cumin | Teaspoon measure or teaspoon |
| 1/2 tsp ground coriander | Wooden spoon |
| 1/2 tsp Luchito smoked chilli paste or chipotle paste or chipotle en adobo (leave out if you can't find it) | |
| Around 750ml chicken stock (I use concentrated stock mixed with water) | |
| 1/2 can drained black beans | |
| 50g basmati rice | |
| 1 roasted red pepper from a jar, sliced | |
| Juice of 1/2 lime | |
| Coriander, chopped (optional) | |
Method
Sweat the onions over a low heat until soft but not browned then add the garlic, stirring for a few minutes so it doesn't burn.
Turn up heart to medium. Add the chorizo and cook for a few minutes to release the oils.
Add the spices and stir whilst cooking for a minute.
Pour in most of the stock and bring to the boil. Keep the rest in case you want more liquid once the rice is cooked.
Add the rice and beans. Put the lid on and reduce the heat. Simmer for around 10 minutes until the rice is cooked.
Stir in the peppers and add more stock if it's needed.
Squeeze in the lime juice just before serving.
If you've got some fresh coriander you could scatter a little over at this point.