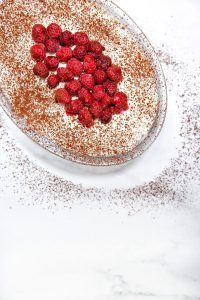 Just with any meal, it's always good to have some quick and easy dessert options up your sleeve.
My go-tos invariably make use of accessible ingredients such as cream, fruit and some sort of biscuit, as well as any flavouring I have to hand.
My chocolate sponge finger pudding is one of these.
Serves 4
| | |
| --- | --- |
| Ingredients | Equipment to have ready |
| 45g hot chocolate powder | Medium sized mixing bowl |
| 100ml boiling water | Large mixing bowl |
| A splash of Bailey's (optional) | Balloon whisk or electric hand whisk |
| 300ml double cream | Spoons |
| Approx. 12 ladyfingers/savoiardi biscuits/sponge fingers | Serving dish |
| Fresh raspberries or a bag of frozen raspberries (350-400g) | Small bowl (optional) |
| 2 tsp icing sugar (optional) | |
| Cocoa powder | |
Method
Mix the hot chocolate powder with a little of the boiling water in a medium sized bowl to create a smooth paste before stirring in the rest of the water.
Stir through a splash of Bailey's, if using.
Pour the double cream into a large mixing bowl and whisk until just firm.
Soak the fingers in the hot chocolate and create a layer in bottom of your serving bowl. Drizzle over a little more liquid to ensure they're thoroughly soaked.
Spread half the cream over the top.
Repeat with another layer of soaked fingers and cream.
Cover and leave it in the fridge for at least a couple of hours, the longer the better.
If you're using frozen raspberries, transfer them to a bowl and take out some whole, better looking ones to set aside for decoration. You can store them in the freezer until you need them.
Stir through the icing sugar, if you wish, and leave to defrost.
When you're ready to eat, decorate the top of the pudding with the reserved whole frozen raspberries or some of your fresh raspberries and dust with cocoa powder. Serve with the remaining raspberries on the side.