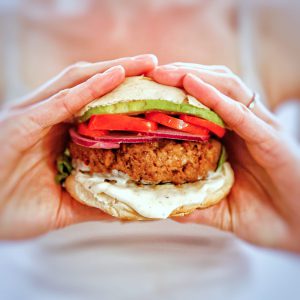 A great alternative to the traditional beef burger. It almost feels healthy! I love the combination of the smoky chilli and zingy lime and this is a burger where there's no need to be too elaborate with the toppings.
Serves 2
| | |
| --- | --- |
| Ingredients | Equipment to have ready |
| 250g turkey mince | Chopping board |
| 2 chipotle en adobo, finely chopped or 1 heaped tsp chipotle paste (Gran Luchito is a good brand) | Sharp knife |
| ½ tsp ground cumin | Mixing bowl |
| ½ tsp ground coriander | Frying pan |
| Zest of one lime, finely grated | Teaspoon measure or a teaspoon |
| 4 dessert spoons breadcrumbs (approx.) | Tablespoon measure or a tablespoon |
| Salt and pepper | Dessert spoon |
| 1 tbsp olive oil | Baking tray |
| | Fine grater |
| Suggested trimmings | |
| 2 bread rolls | |
| Lime mayo (made with 1 heaped dessert spoon mayo and juice of half a lime) | |
| 1 avocado, sliced | |
| 1 tomato, sliced | |
| Few slices of red onion | |
| Four leaves of little gem lettuce | |
| Sweet potato and potato wedges or fries | |
Method
Put all the burger ingredients in a mixing bowl and combine well with your hands. Turkey mince can feel a lot wetter than beef mince so, if it is still feeling a little loose and wet, add a few more breadcrumbs.
Form into two burger patties – sometimes I get the ciabatta rolls which are square and like to form them into square patties to fit the rolls better.
If you have time, it helps to let the burgers rest in the fridge for about 30 minutes.
Before you are ready to cook, preheat the oven to 180C.
Put the frying pan on a high heat until hot and add the olive oil before laying in the burgers.
Cook on both sides until you achieve a satisfying brown colour. Transfer to the oven in your pan, if it fits and the handle is oven-safe, or on a baking tray and cook for around 8 minutes until the burgers are cooked right through. You could continue cooking the burgers on the hob but I find they dry out less if you transfer to the oven.
Remove the burgers and allow to rest whilst you heat the bread rolls for a few minutes in the oven.
Assemble your burgers, slathering the lime mayo onto the top and bottom of the bread rolls and layering up your burger and toppings. Serve with the wedges or fries.