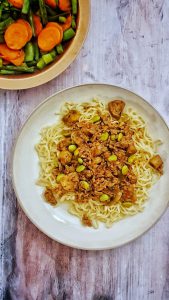 This is a really comforting dish with a good warmth from the chilli bean paste. It works particularly well with pork mince but you could also try it with beef or turkey mince or even soya/Quorn mince.
Serve the chilli bean pork with egg noodles and stir fry vegetables (I like carrots, green beans, sugarsnap peas and pak choi) with garlic and oyster sauce.
Serves 4
| | |
| --- | --- |
| Ingredients | Equipment to have ready |
| 1 tbsp groundnut oil | Chopping board |
| 500g pork mince | Sharp knife |
| 1/2 tsp white pepper | Wok or large frying pan |
| 1 tbsp ginger, grated | Teaspoon measure or a teaspoon |
| 1 clove garlic, finely chopped | Tablespoon measure or a tablespoon |
| 3 spring onions, finely chopped and the green part separated | Measuring jug |
| 150g mushrooms or 6 dried shiitake soaked, quartered | |
| 4 tbsp chilli bean paste | |
| 2 tbsp peanut butter | |
| 1 tbsp dark soy | |
| 1 tbsp light soy | |
| 1 tbsp rice vinegar | |
| 250ml approx. chicken stock | |
| 100g frozen edamame | |
| 1 tbsp sesame oil | |
Method
Heat the wok until it is smoking hot, pour in the groundnut oil and swirl around.
In goes the pork mince and white pepper, break up the mince then leave to cook without touching for a few minutes to allow it to brown. Stir occasionally until browned completely and the liquid has evaporated.
Add the ginger, garlic and white of the spring onion. Cook for a minute, stirring continuously.
Add the mushrooms and stir fry for a few minutes before stirring through the chilli bean paste and peanut butter.
Pour in the dark and light soy and rice vinegar and stir through.
Pour in the chicken stock, stir and bring to the boil. Turn down the heat and simmer for 20 minutes, adding more stock or water if it is boiling dry.
Tip in the frozen edamame and cook for a few minutes to defrost them.
Finish by stirring through the sesame oil. Serve with noodles and stir fry vegetables.