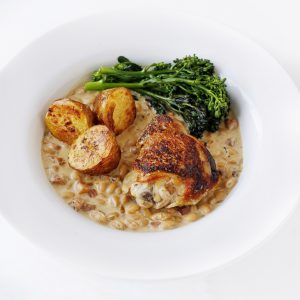 I regularly look for recipes online, particularly for meat free meal ideas, but also so that I have a stash of tried and tested recipes I can recommend to my clients, meaning they have new dinner inspiration without having to splash out on books.
Some recipes I'll only make once or twice, others are keepers and now make a regular appearance on my meal plan. One such recipe is this chicken, pancetta and bean stew with sage. It looked like it could be quite involved, I doubted its easy status at first, but it really is simple and a truly satisfying meal.
Over time, my preparation of the dish has evolved, not because there's anything wrong with the recipe, but because one time I didn't have all the ingredients or, as is usually the case, I needed to find a way to make it in stages, working around family life and time restrictions.
So, when I now cook this dish, the recipe looks like this:
Serves 2
| | |
| --- | --- |
| Ingredients | Equipment to have ready |
| 2-4 chicken thighs on the bone, with skin on | Sharp knife |
| 1 pack of pancetta cubes or a few rashers of smoked bacon, chopped | Chopping board |
| 1/2 white onion, finely chopped | Measuring jug |
| 1 clove garlic, finely chopped | Tablespoon measure or tablespoon |
| Small handful frozen sage leaves, finely chopped or a pinch of dried sage | Saute pan, frying pan that will fit in the oven or casserole that can go on the hob and in the oven |
| Salt and pepper | Wooden spoon |
| 100ml white wine or dry sherry or a splash of cider/white wine vinegar | |
| 200ml chicken stock (I use concentrated chicken stock and water) | |
| 400g tin haricot beans, drained, rinsed | |
| 2 tbsp crème fraiche | |
Method
Pre-heat the oven to 180C.
Heat your pan on a high heat and add the chicken skin side down until the skin browns and the fat is released. Turn the chicken over and cook for a few more minutes.
If there's a lot of fat, remove some with a spoon, leaving a tablespoon or so in the pan.
Add the pancetta or bacon and cook until it has coloured a little.
Turn down the heat to low and add the onions. Leave them to soften but not brown, stirring occasionally, before adding the garlic and cooking until the smell of raw garlic has gone.
Stir through the sage and then season with a little salt and a generous amount of pepper.
Pour in the wine/sherry/vinegar and cook until you can no longer smell the alcohol fumes (or, if using vinegar, just for about 30 seconds).
Pour in the stock and bring to the boil and add the beans. You could make ahead to this point and finish later.
Transfer the pan to the oven and cook for 30 – 45 minutes until the chicken is cooked through. (I will often cook at a lower temperature so that I don't have to worry about it if bedtime overruns then turn the oven back up once I'm back in the kitchen to finish the cooking.)
Stir the crème fraiche into the stew and cook for a further 5 minutes before serving.
I have served this dish with bread, mashed potatoes, roasted baby potatoes or sourdough toast as well as tenderstem broccoli or green beans.