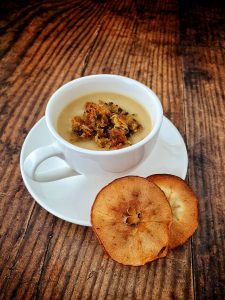 This celeriac and apple soup is a perfect dish to serve throughout winter but in particular over Christmas. It's quick and straightforward to make, doesn't have an ingredients list as long as your arm and yet can be served elegantly enough to suit the occasion. The stuffing crumble will surprise and wow your guests!
If you choose to serve the soup without the crumble, a pinch of dried sage when you're sweating off the onions works a treat.
Serves 2-3
| | |
| --- | --- |
| Ingredients | Equipment to have ready |
| For the soup: | Large sauce pan with lid |
| A knob of butter | Chopping board |
| 3/4 onion, chopped | Sharp knife |
| 1/2 celeriac, peeled and cut into cubes | Measuring jug |
| 1 small eating apple, cored and cut into cubes | Stick blender |
| Veg stock approx. 250ml (plus extra to get a consistency you like once blitzed) | Mixing bowl |
| 2 tbsp creme fraiche | Baking tray |
| Salt and pepper | Medium saucepan with lid or microwavable bowl |
| | |
| For the stuffing crumble: | |
| 1/4 onion, very finely chopped | |
| Small handful of fresh sage, finely chopped or 1 tsp dried sage | |
| A knob of butter | |
| Squeeze of lemon juice | |
| 2 slices bread, turned into breadcrumbs | |
Method – to make the soup
In a large saucepan, sweat the onion in the butter until soft and translucent.
Add the celeriac, apple and a tiny amount of salt and a good grind of pepper then sweat for a few minutes.
Add the stock and bring to boil.
Cover with a lid, turn down the heat and simmer gently for around 30 minutes, until the celeriac is soft.
Remove from the heat and stir through the creme fraiche.
Blitz until smooth.
Put back on a low heat. Let down the soup with a little more stock, if needed, and taste to check the seasoning.
Method – to make the stuffing crumble
Preheat the oven to 140C.
Soften the onion in a little water in the microwave or in a small saucepan.
Stir the sage into the onion along with a knob of butter and a squeeze of lemon juice.
Add the breadcrumbs and mix well.
Spread the mixture onto a baking tray and bake until crisp, stirring after around 15 minutes to ensure it is crisp all through and checking regularly after that until it is done.