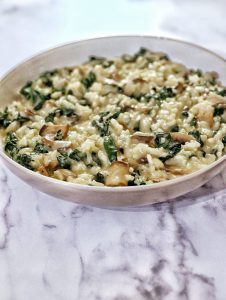 The basic recipe is a cavalo nero and mushroom risotto, but I like to add courgette when in season and frozen peas at other times of the year (or both courgette and frozen peas during courgette season!).
You can also use the cheese of your choice for this recipe; Parmesan, Grana Padano and Gorgonzola picante all work well. How much you add is also up to you, depending on how strong your cheese is and how cheesy you like your risotto.
You'll see that I suggest adding a Parmesan or Grana Padano rind to the risotto as it cooks. This imparts a delicious flavour but is also a way of making full use of the ingredient. You can save the rinds, wrap them well and put them in the freezer for when you need one. They are excellent in risottos, soups, Bolognese and other sauces and casseroles when you want a deep, rich and intensely savoury flavour.
Serves 4
| | |
| --- | --- |
| Ingredients | Equipment to have ready |
| 400g mushrooms, sliced (a mix of chestnut and button is best but just button is fine) | Chopping board |
| 1 courgette, quartered lengthways and sliced (optional) | Sharp knife |
| 1/2 onion, finely chopped | Fine grater |
| 1 big fat clove garlic, finely chopped | Large frying pan or casserole |
| 270g risotto rice | |
| 1 small glass of white wine (optional) | |
| Vegetable stock (approx. 810ml or 3 times the volume of rice) | |
| Parmesan or Grana Padano rind, if you have one | |
| 300g cavalo nero, stalks removed and shredded, washed | |
| Frozen peas (optional and as many as you fancy) | |
| Grana Padano, Parmesan or Gorgonzola picante (whatever you fancy and to taste) | |
| Salt and pepper | |
Method
Heat a large frying pan or casserole until very hot and fry the mushrooms with a grind of pepper until the liquid is released and evaporated. Set aside.
If you are using it, fry the courgette with a grind of pepper until brown then set aside.
Turn down the heat to low and sweat onions, cooking until soft and translucent. Next add the garlic and cook, whilst stirring until the raw sell of garlic has gone.
Add rice and coat in the onion and garlic mixture.
Pour in the wine, if using, and cook until evaporated.
Add half of the cook mushrooms and any liquid that has released from them into the pan along with the cheese rind, if you have one.
Now gradually add the vegetable stock, stirring constantly to begin with to help create the creamy texture of the risotto. When the stock is absorbed add more. Continue cooking, stirring and adding stock.
When the rice is almost cooked remove the cheese rind and add the cavalo nero. Cook until wilted and soft.
Add the peas, if using, the rest of the mushrooms and the courgettes, if using, just to warm through.
Stir through the cheese until melted, adding a drop more stock if needed to loosen the risotto.
Check the seasoning and add salt and pepper if needed.
Let it sit in the pan for a few minutes before serving. Extra grated cheese on top isn't necessary but it is good!