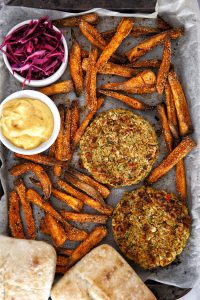 Put your store cupboard to work with these burgers.
I like to serve mine in a bun with a curry mayo, taking influence from Coronation chicken. Mix ½ tsp curry powder, a heaped tsp mango chutney, a squeeze of lemon juice and a heaped tbsp mayo. Top with lettuce, tomato, and a slaw made with shredded red cabbage, red onion, lemon juice, salt and a few nigella (black onion) seeds. On the side, some spiced sweet potato fries (garam masala, chilli powder, salt and pepper).
Serves 4
| | |
| --- | --- |
| Ingredients | Equipment to have ready |
| 4 tbsp olive oil | Chopping board |
| 1/2 onion, finely chopped | Sharp knife |
| 1 clove garlic, finely chopped | Potato masher |
| 1 red chilli, finely chopped | Large mixing bowl |
| 1 heaped tsp cumin | Frying pan |
| 1 carrot, grated | |
| 4 frozen chopped spinach cubes, defrosted and drained | |
| 400g tin of cannellini or haricot beans, drained and rinsed | |
| Breadcrumbs | |
Method
Put the frying pan on a medium heat, add 1 tbsp oil and onion and cook gently until the onion is translucent and soft. Add the garlic, chilli and cumin then cook for a minute or so.
Add the carrot and cook for another few minutes until it starts to soften.
Next add the spinach and cook gently until all the liquid has evaporated from the pan. Set aside to cool for a few minutes.
Tip the beans into a large bowl and roughly mash. Ideally, you'll have some beans which are well mashed and others just broken up.
Stir through the onion mixture and a handful of breadcrumbs. Add more breadcrumbs if the mixture is too loose. You may need two or three handfuls.
Form into burger patties and chill for at least 30 minutes.
Heat the frying pan again over a high heat, add the remaining oil and fry the burgers. You want them nicely browned on both sides and hot through.