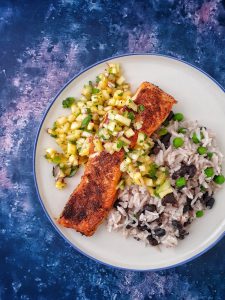 Serves 4
| | |
| --- | --- |
| Ingredients | Equipment to have ready |
| 4 salmon fillets | Baking tray |
| 1 tsp sunflower oil | Large microwave safe bowl |
| 1 tbsp Caribbean all-purpose seasoning | Clingfilm |
| 200g Basmati rice | Sharp knife |
| 1 tin black beans, drained | Chopping board |
| 25g coconut cream, roughly chopped | |
| Two sprigs of thyme | |
| 12 tbsp frozen peas | |
| ½ pineapple, cut into a small dice | |
| ½ red onion, finely chopped | |
| 1 red chilli, deseeded and finely chopped | |
| 1 lime, juiced | |
| Salt and pepper | |
| 2 tbsp coriander, chopped | |
Method
Preheat the oven to 180C.
Wash the salmon and dry with kitchen towel.
Place on a baking tray, rub with the oil and Caribbean seasoning then season with a little salt and pepper. Set aside whilst you prepare the rice.
Put the rice in a large bowl with the black beans, coconut cream and thyme. Pour in twice as much water as you have rice. Cover with cling film, pierce with a small hole and cook in the microwave on medium for 12 minutes.
Once the rice is in the microwave, put the salmon in the oven and cook for 10-15 minutes, until cooked through.
Whilst the rice and salmon are cooking, prepare the salsa. Mix the pineapple, red onion and red chilli together, pour on the lime juice and season with salt and pepper.
When the rice is cooked, add the frozen peas and run a fork through to fluff it up. Cover over again and leave for a few minutes to allow the peas to defrost.
Stir the coriander into the salsa just before serving.