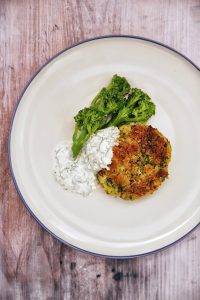 Have you ever tried making fishcakes with beans instead of potato? This store cupboard hero is a great substitute and you'll barely notice the difference.
I use smoked mackerel in mine for absolute ease and speed (you could use tinned mackerel) as well as frozen spinach, another of my star ingredients.
The green stuff can be left out if it's not going to fly with the fussy ones but they're definitely better with it!
Serve with steamed broccoli or Tenderstem or purple sprouting broccoli.
Makes 4-6 fishcakes
| | |
| --- | --- |
| Ingredients | Equipment to have ready |
| For the fishcakes: | Large mixing bowl |
| 400g tin cannellini beans, drained | Chopping boards |
| 1 tsp English mustard | Sharp knife |
| Juice of 1/4 lemon | Frying pan |
| 3 cubes frozen spinach, defrosted and drained | Potato masher |
| 2 tbsp parsley, finely chopped | Teaspoon measure or teaspoon |
| 1 fillet smoked mackerel or 1 tin of mackerel, flaked | Small bowl |
| Salt and pepper | Dessert spoon |
| Olive oil | |
| Breadcrumbs | |
| | |
| For the dressing: | |
| 2 dstsp natural yoghurt | |
| Squeeze lemon juice to taste | |
| 2 cornichons, finely chopped | |
| 1 heaped tsp capers, finely chopped | |
| 1 tbsp parsley, finely chopped | |
| Salt and pepper to taste | |
Method
In a large bowl, mash the beans.
Stir through the mustard, lemon, spinach, parsley, mackerel and a little salt and pepper.
Mix well with a spoon or your hands then form spoonfuls of the mixture into fishcakes and place on a board.
Rub the fishcakes all over with a drizzle of olive oil.
Sprinkle over the breadcrumbs and pat them onto the fishcakes.
Chill in the fridge for around 30 minutes, or for as long as you can to allow them to firm up.
Heat 2 tbsp olive oil in a large frying pan on a medium heat and when hot lay in a fishcake and immediately flip over. Repeat one at a time until all the fishcakes are in the pan.
Fry the fishcakes for a few minutes on each side until you have a pleasing golden colour and transfer to a baking tray.
If you do not have a pan big enough for all the fishcakes, pre-heat the oven to 160C (Fan), fry the fishcakes in batches and transfer to a baking tray to keep warm in the oven.
To make the dressing, mix together all the ingredients in a small bowl.