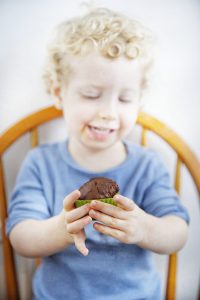 My banana and blueberry muffins are always a big hit with the kids but sometimes, and who doesn't, they want chocolate cake. This is my way of giving them what they want whilst controlling the amount of sugar they're eating.
They freeze well and defrost quickly, making them perfect for picnic treats.
If you've got ripe bananas stored in the freezer, you can use them in this recipe.
Makes approx. 6 muffins or 12 mini muffins
| | |
| --- | --- |
| Ingredients | Equipment to have ready |
| 150g plain flour | Baking tray or muffin tray |
| 1 tsp baking powder | Muffin cases |
| 2 tbsp sugar-free cocoa powder | Two mixing bowls |
| 2 ripe bananas, peeled | Teaspoon measure or teaspoon |
| 3 ½ tbsp sunflower or vegetable oil | Tablespoon measure or tablespoon |
| 1 large egg | Spatula |
| 3 tbsp milk | Dessert spoon |
| Handful of dark choc chips (or chopped up chocolate) (optional though highly recommended!) | Whisk |
Method
Preheat the oven to 180C.
Put the flour, baking powder and cocoa in one bowl and whisk gently to combine and remove any lumps.
Put the peeled bananas in the other bowl and mash.
Add the oil, egg and milk and mix together.
Tip in the flour mixture and combine. Don't be tempted to mix too much or your muffins won't be light and fluffy.
Fold through the choc chips and spoon the mixture into the muffin cases.
Bake for around 20 minutes until golden and when you press lightly on the top of the muffin it bounces back.
Leave to cool on a wire rack before eating. Lovely when still warm!