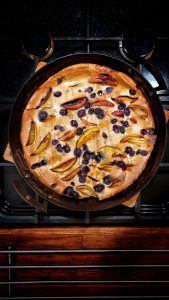 This apple and blueberry toad in the hole was born from my craving for toad in the hole and having no sausages in the house coinciding with the children asking for a sweet pudding! What I did have was some apples past their best and some blueberries knocking about in the freezer, as there often are!
Clafoutis is a traditional French dish akin to this dessert, though the batter for a clafoutis is eggier, more of a set custard. A Dutch baby might also be comparable, a giant fluffy pancake served in a cast iron pan which you might eat with bacon and maple syrup or some berries.
But there's nothing like the satisfaction derived from a Yorkshire pudding batter with its perfect balance of crisp and airy! Serve straight from the oven with a drizzle of maple syrup and cream.
Serves 4
| | |
| --- | --- |
| Ingredients | Equipment to have ready |
| 125g plain flour | Chopping board |
| 1/2 – 1 tsp ground cinnamon (to taste) | Sharp knife |
| 2 eggs | Cast iron pan or a roasting tin |
| 125ml milk mixed with 125ml cold water | Measuring jug |
| Knob of butter | Large mixing bowl |
| 1 tbsp olive oil | Whisk |
| 3 eating apples, each cored and cut into 8 | Frying pan (if not using a cast iron pan) |
| 100g frozen blueberries (1/4 packet) | |
| Maple syrup | |
| Cream | |
Method
Pre-heat the oven to 220C (fan).
Put the flour and cinnamon in a large mixing bowl and add the eggs. Start to whisk then gradually add the milk and water until you have a smooth batter. Set aside to rest.
Heat your cast iron pan on the hob. If you're using a roasting tin, put the tin in the oven and heat a frying pan on the hob.
Add a knob of butter and the oil to the pan and lay in the apple slices. Cook until golden brown on both cut sides. If you're using a roasting tin, remove the tin from the oven and set it over a low flame on the hob. Transfer the apples and any remaining fat to the tin.
Scatter over the blueberries then pour over the batter.
Bake in the oven for 20 – 25 minutes.
Serve with a drizzle of maple syrup and cream.