When we think of batch cooking, we are usually thinking about whole meals; a chilli, Bolognese or stew, for example. But batch preparing can extend to components of a meal to make putting lunch or dinner together a whole lot quicker. So, whilst I advocate meal planning, if you still haven't got around to it, this can help ensure you're eating well throughout the week when you don't have the headspace to be planning a meal.
Roasting some vegetables? It only takes a few more minutes to chop some extra for another day. Lay out the veg on trays, keeping the different ingredients separate, and you can pick and mix your pre-roast veg over the next few days for a variety of speedy meals. Get roasting all year round using whatever's in season. Use them for a quick hash, a frittata, wrap, pitta or taco, include in a rice or grain bowl, with beans or lentils for a hearty salad, stir through pasta, turn into soup, the possibilities are practically endless!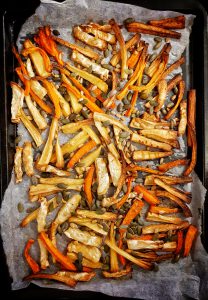 No matter the cooking method, consider preparing extra, cool them as quickly as possible after cooking and store in airtight containers in the fridge.
As salad season is upon us, you can also batch prepare some raw veggies to last a couple of days. Again, chop them as you wish and store in airtight containers in the fridge. Some vegetables (including fennel, celeriac and artichokes) are prone to discolouring and will fare better stored in acidulated water (cold water with a squeeze of lemon juice in it).
Give it a try and let me know how you get on!