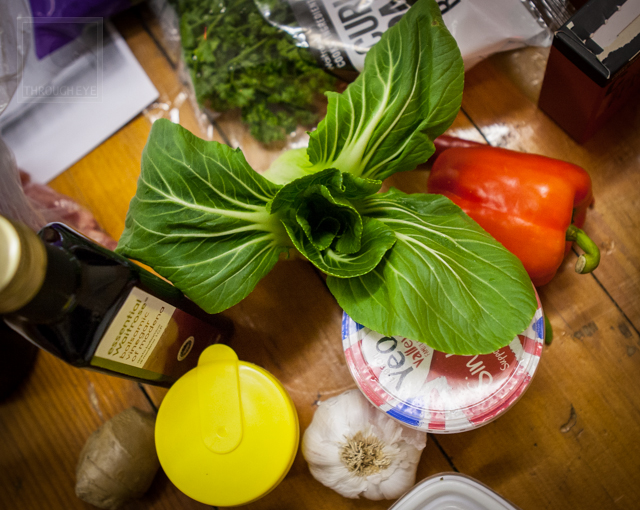 On Tuesday, Jed and I had the pleasure of joining 1st Backwell Scouts for an evening of cooking. We were honoured to have been asked to judge their inaugural Masterchef competition.
This wasn't going to be anything like their usual campfire cooking; we and the Scout leaders were looking for a high quality three course meal from each team of six Scouts, prepared and served in just one hour.
We needed to see evidence of menu planning, good food hygiene and safety, teamwork, and of course well cooked and presented food that tasted great.
The Scouts had spent the previous week's meeting planning what they were going to cook with their £10 budget, writing shopping and to do lists, assigning tasks as well as working out what equipment, crockery and cutlery they'd need to bring with them.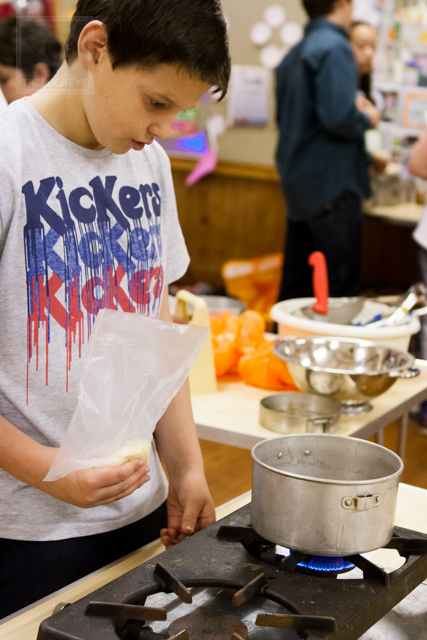 Each team were only provided with two tables to use for preparation and cooking, a two-ring gas burner and basic Scout cooking equipment so they had needed to plan well and consider the logistics of six people preparing and cooking the three dishes within the hour (at least one dish needed to be served hot). Oh, and did I mention that all six teams had access to just one sink in which to wash up as they went along since they'd only have 15 minutes at the end of cooking time to clear away and leave the Scout hut tidy?
I imagine that even the chefs competing in Masterchef: The Professionals would be nervous at the prospect.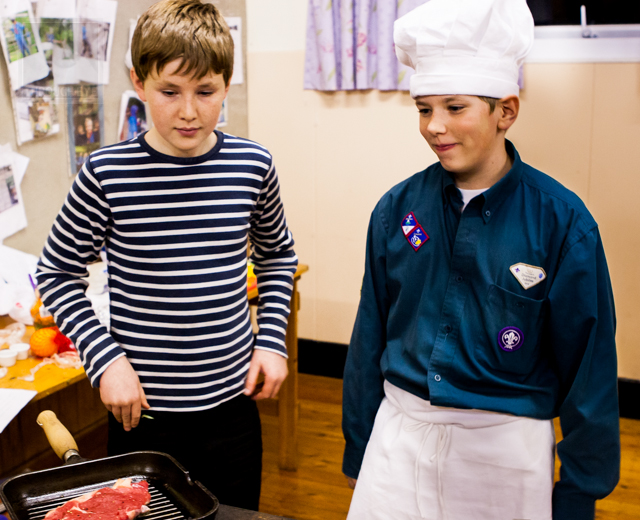 Not only did they look the part with their chefs hats and fancy aprons, but a number of the Scouts showed impeccable knife skills and food knowledge and there were even some attempts at cheffy smears (luckily there were no foams!).
The teams were well organised with everyone knowing what they needed to do and when.  Each team pulled together and they all, despite the fire alarm going off, some frantic moments and last-minute panics, lined up a full three courses on the judging table.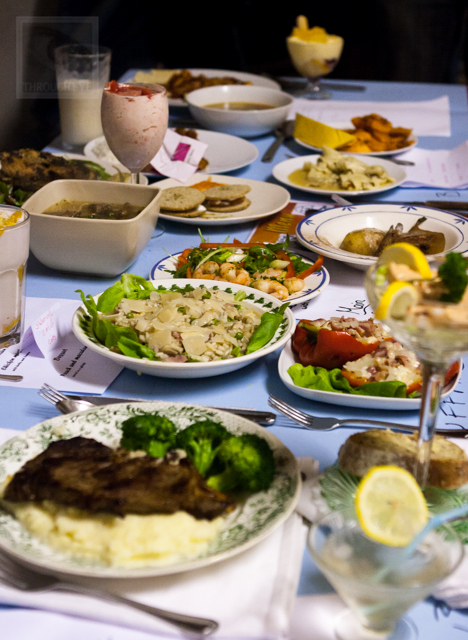 Amazed at what the Scouts had produced in such a short of amount of time and with limited resources, we had a tough job ahead of us judging the food. There were some stand out dishes; the spicy pork with noodles from the Stag team demonstrated many skills and the layers of flavour in the dish really came through, Eagle team's sweet and sour pak choi soup had quite a kick to it but the heat didn't mask the other more fragrant flavours and Bulldog team, which unfortunately ran out of time to thread the marinated meat for their chicken kebabs onto the skewers none-the-less, produced a sticky, zesty, peanutty and incredibly moreish dish.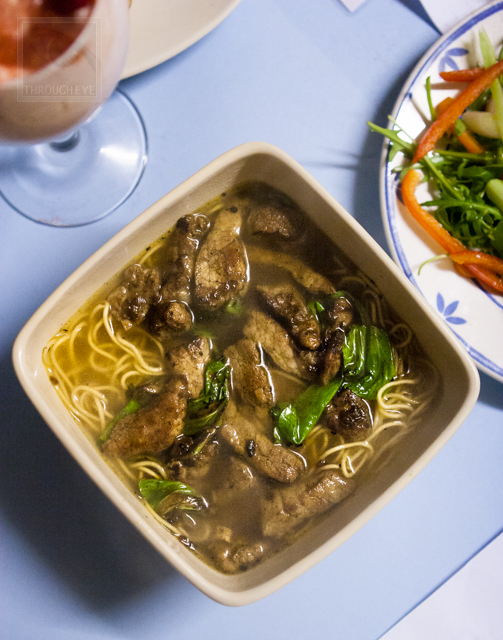 Everyone should be very proud of themselves. All teams scored very highly, there were very few points in it but in the end congratulations had to go to the Stags.
The menus
Eagle
Sweet and sour pak choi soupGarlic and sweet chilli prawns

Trifle

Bulldog
Spicy sweet potato slicesChicken kebabs

Pancakes

Tiger
Smoked salmon on crackersGarlic chicken fillet

Eton mess

Stag
Garlic prawns with rocket saladSpicy pork with noodles

Poached pears with cinnamon

Buffalo
Roasted pepper with bacon stuffingChicken, mushroom, pea risotto

Peach and macadamia parfait

Badger
Prawn cocktailSteak, mashed potato and broccoli

Oranges in syrup