You could be forgiven for initially thinking that Kitchin Suppers is just another publication from a long line of celebrity chefs who have released books full of recipes which are bordering on the impossible to produce at home. In fact, Tom Kitchin breaks the mould. He is obviously a man who cooks at home with and for his family and friends and appreciates the limits of domestic appliances, the equipment available to most home cooks, the time constraints within family and working life, and that, at home, we don't have an army of kitchen staff to handle all the prep for us.
The recipes in the book are not adapted from the dishes on his restaurant menus, but have been specifically created for home cooking. That's not to say that the recipes aren't interesting, quite the opposite. Tom provides some twists on classics but he also serves up some more unusual supper ideas, including quick and easy recipes for entertaining, Sunday dinners, one-pan wonders and weeknight meals.
The recipes don't require a lot of time or effort (though a few will need a little planning and clever shopping), and there isn't a single recipe which stands out to me as not being achievable for the average home cook, but there's definitely no compromise on quality or mouth-watering appeal.
We put Tom's rolled escalope of veal with lemon and caper butter recipe and claim that many of the dishes can be on the table in 30 minutes to the test. I decided to do baked new potatoes with the meal so it wasn't realistic to think we'd be having dinner in 30 minutes but, that said, once the potatoes were in the oven, I was able to prepare and cook the escalopes in next to no time. The dish would work equally well with some crusty bread making it more than achievable in a short timeframe. And the verdict? There's no question we'll be having it again!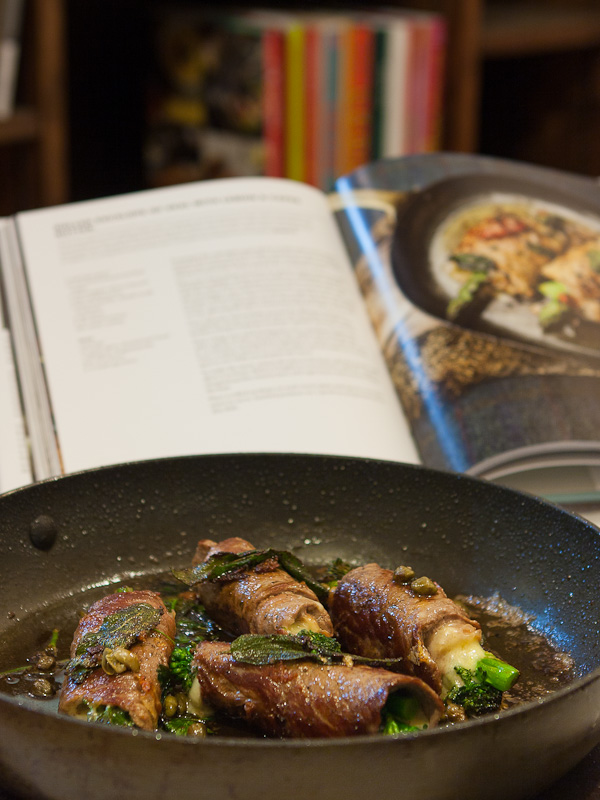 The feel of the book is homely too, aided by the photographs which are natural and realistic representations of what it is you'll be cooking. A photograph needs to be a feast for the eyes and make you want to cook a dish but let's face it there's nothing more disappointing than the dish you cook looking nothing like the picture in the book.
Kitchin Suppers proves that home cooking doesn't have to be boring, understated or the same old dishes time and time again. Good food needn't take an age to prepare and it doesn't have to be complicated to look and taste incredible.
Tom Kitchin's Kitchin Suppers is published by Quadrille Publishing. RRP £20.