After so many days of steadfastly eating your way through Christmas dinner and all the leftovers, New Year is a great opportunity to tuck into something a little different…even more so if you have a willing victim (erm, I meant volunteer) to support you playing around with ideas and equipment.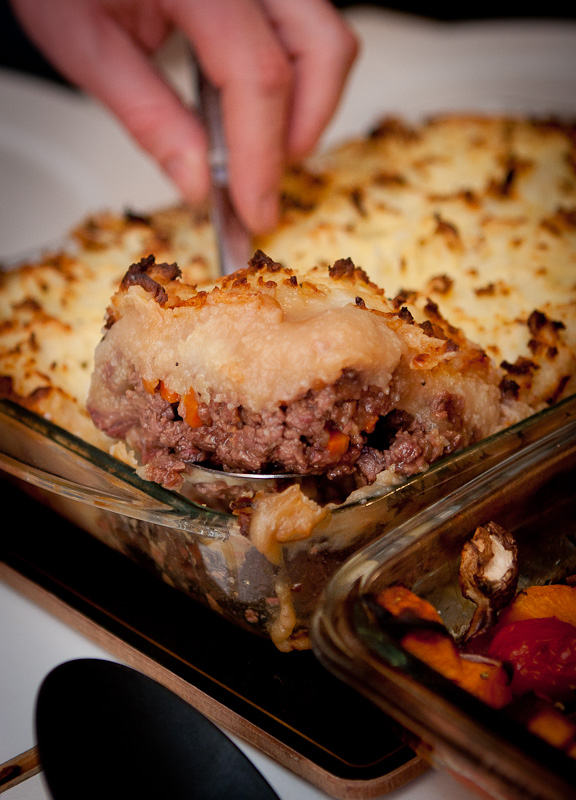 We were at a friend's house for New Year. Lisa had set Harry the challenge of cooking something for us all on New Year's Eve. Some lovely brisket had been bought before our arrival and Harry was keen to cook a really special cottage pie. The question was how would he go about it? What would make it special enough to serve for New Year? After all cottage pie is usually something made mid-week with your leftover roast.
Cue my over-active food mind! Should we simply mince it? No, too simple. Should the meat be marinated before cooking? In what? Maybe we roast it before mincing to go in the pie? Or perhaps slowly braise it before shredding? Hang on, I thought, this is Harry we're with. We need gadgets, we need pin-point accuracy, we need showmanship à la Heston! How about putting his new Weber BBQ to good use? A few beers later and a plan was hatched!
It was in some of that beer (Old Peculier, in case you're wondering, chosen for its dark, malty and almost liquorice character) that the meat went, along with a dried chilli, some garlic, a good dash of Worcestershire sauce, whole black peppercorns and a drop of coffee.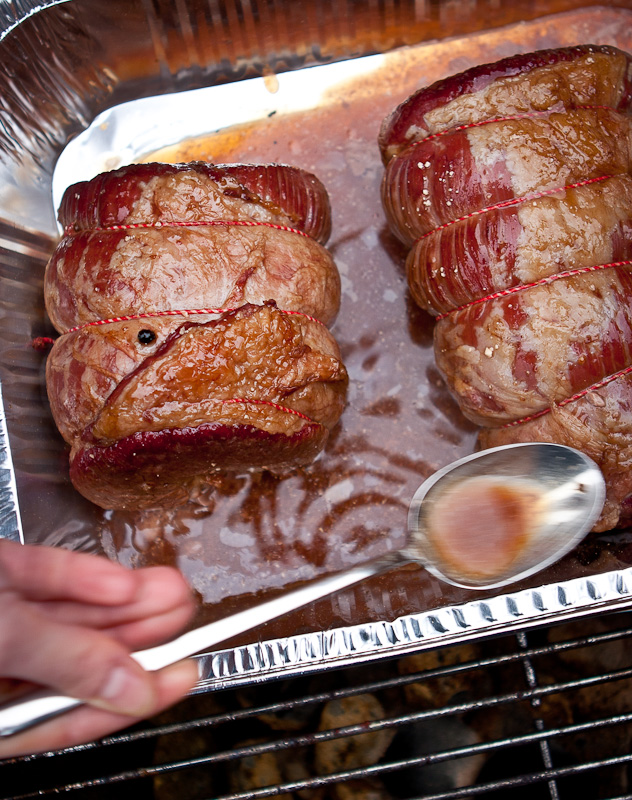 The next morning, after a good breakfast of course, it was time to get the BBQ going. We'd need to cook the meat low and slow and decided on 120 degrees centigrade as our optimum temperature (I was listening and learning at Grillstock back in the summer!). Keeping an eye on the thermometer and topping up the coals to ensure a constant heat as well as basting the meat with the marinade every hour for six hours, we were confident that, if nothing else, we'd have a tasty piece of meat at the end of it.
Six hours later and it was time to leave our meat to rest before moving on. We got on with making the gravy, gently sweating onions until soft then adding small cubes of carrot and some crushed garlic, a spoon of flour, the remainder of the marinade, some beef stock and the meat juices. We shredded the meat, excited by what the resulting different sizes of meat would bring to the finished dish, and into the gravy it went.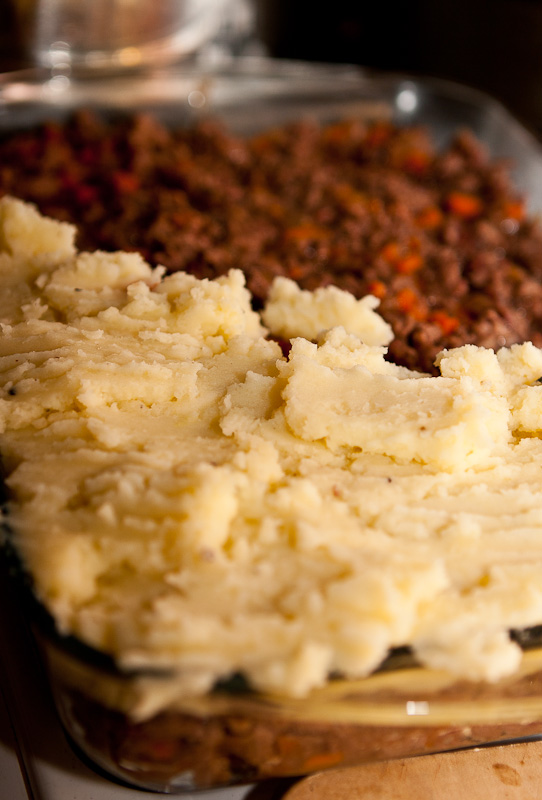 Everything combined, the filling was transferred to the pie dish and topped with creamy mashed potato (to be sure not to leave out any of the detail, the boiled potatoes went through a ricer, had butter, cream and seasoning added) before being baked at 200 degrees centigrade for 30 minutes.
Worth the wait and the effort? Oh yes! The result was stunning. It's not something I'll be doing every time I make a cottage pie but we had fun cooking it and seeing it being devoured in no time at all accompanied by a round of mmmm's with every forkful. This was the perfect cottage pie with which to end the year and welcome in the next.