It probably wouldn't surprise you to read that food played a big role in our wedding. The wedding breakfast was particularly important but the munching didn't stop there.
The beauty of Folly Farm was that the venue was ours for the whole weekend. It meant we could arrive on the Friday to decorate and set the rooms up as we wanted then share dinner with close family and friends that evening around the big table in the Old Dairy.
That dinner consisted of Brazilian pork and black bean stew and a black bean chilli which, just weeks before the wedding, I'd spent a weekend making and then froze (thanks to Heidi for the loan of space in her chest freezer!) ready for my mum to re-heat once we'd finished decking out the rooms.
My mum also kindly made a selection of family-favourite desserts; chocolate mousse, pavlova and apple crumble. The chocolate mousse was clearly a big hit with my four year old goddaughter who had four helpings!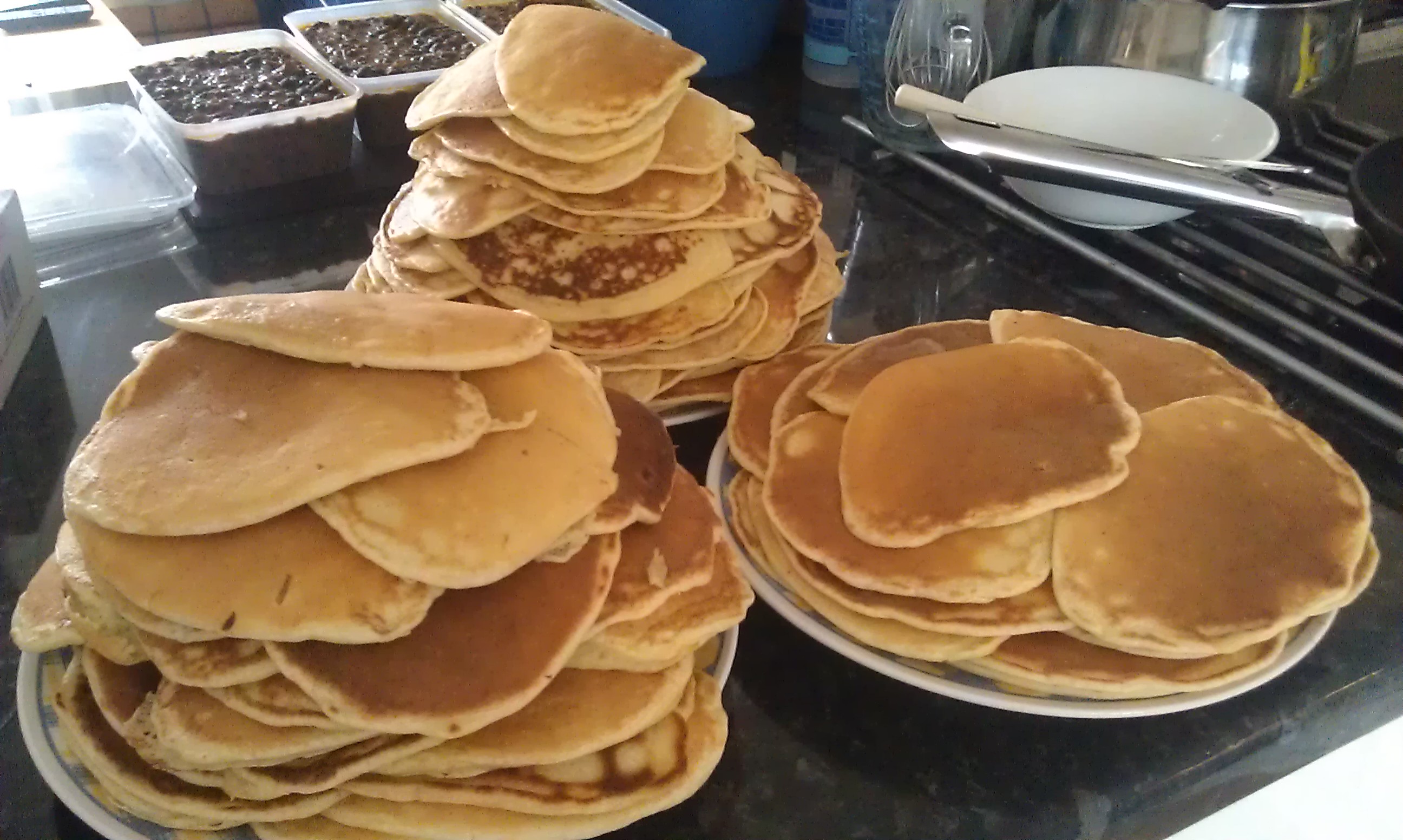 Banished from the kitchen on my wedding day, my presence made itself known at breakfast in the form of American pancakes, a weekend brunch favourite. The same weekend I was busy making stew and chilli, I also made a huge pile of pancakes for everyone. Served with maple syrup and raspberries, it was a great way to set us up for the day. I particularly enjoyed mine sat in bed with a cup of tea, chatting with friends!
We would have hated for anyone to go home hungry and/or not having had enough to drink so sausage sandwiches and cheese were in order late in the evening.
Ian at the Cheese Shed helped us construct our own 'cheese cake' of wonderful South West cheeses, decorated by our friend, Mel, who also did an amazing job with my bouquet.
From top to bottom: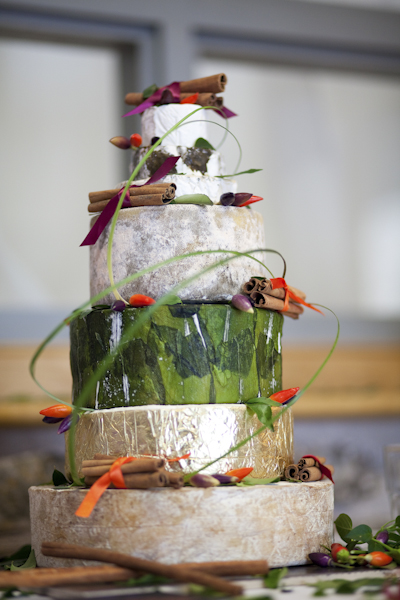 Gevrik (goat's cheese)
Eve (goat's cheese)
Black-Eyed Susan (organic, Jersey cow's milk cheese)
Miss Muffet (semi-soft, cow's milk cheese)
Wild Garlic Yarg (cow's milk cheese wrapped in wild garlic leaves)
Beenleigh Blue (blue ewe's milk cheese)
Six Spires (unpasteurised cow's milk cheese)
The sausages were lovingly cooked by our WOMAD friends, Gordon & Alex, as a wedding present! Bread rolls came from the independent artisan bakery, Mark's Bread, on North Street and the sausages from our usual supplier, the brilliant Bristol Sausage Shop, in Bristol's St Nick's market.
Having road tested our shortlist of flavours with our fellow WOMAD-goers this summer, we decided on the three favourites: the Lucifer (a pork sausage with a chilli hit), black magic (pork and black pudding) and pork, red onion and ginger. There were also lovely veggie sausages from the Naked Kitchen.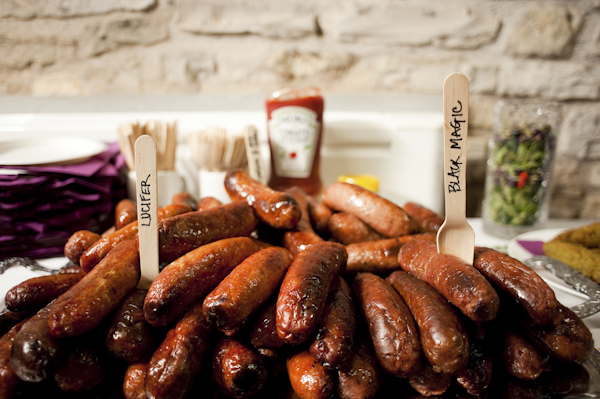 The food didn't stop there! We couldn't ask people to help clear up on an empty stomach so laid on bacon sandwiches on the Sunday morning. Our friends know us so well – Emma, Ed and Hattie bought us amazing Chatsworth House cured bacon as our wedding present and made their own ketchup and brown sauce to go with it. A special thanks to my mum and dad, Phil and others who helped make sure everyone was fed and watered before getting on their way.
They also put together 'party bags' of leftover cake, cheese and biscuits, sausages and bread for people to take with them. I hate food going to waste so it gave me great pleasure to know that there were plenty of picnics had on the way home and friends' children had the best packed lunches the following week!
The clearing up done, everyone on their way home and the hangovers setting in, we headed to the Michelin starred Pony & Trap for Sunday lunch. Melt in the mouth Gloucester Old Spot pork loin and tender rare-breed roast sirloin of beef with all the trimmings were a fitting end to an incredible and unforgettable wedding weekend.
After such an indulgent weekend, I have high hopes for married life – may we be lucky enough to continue to share and enjoy many years of love and fine food together.