If there's one thing that chefs and keen home cooks are (over?) protective about it's their knives. Most cooks will have their favourite, some knives have a long history, some are just for show whilst others come in for a daily battering. Like one of the family, chefs will take their, often supremely expensive, knives with them everywhere they go and god forbid anyone who dares pick up and use them!
It's this tool of the chef's trade which is the unusual starting point for the hefty new book, Bought, Borrowed & Stolen. Allega McEvedy loves knives, buying a new one in every country she visits to add to her well-used collection. Each knife (bought) tells a story and has a purpose unique to the country from which it originated. This, along with tales of her travels and a short fact-file, serves as an interesting introduction to the country and the recipes within each section.
You really get the sense that this book has been years in the making. All those childhood years travelling with her historian father, accompanying him on research trips and being encouraged to keep a travelogue (but actually only managing to keep a food diary), has seemingly culminated in a book that makes you want to travel, visit markets, eat at family-run restaurants and discover local delicacies. Allegra's engaging personality comes out in her informal style of writing, you really do feel like she's talking to you and you're travelling with her.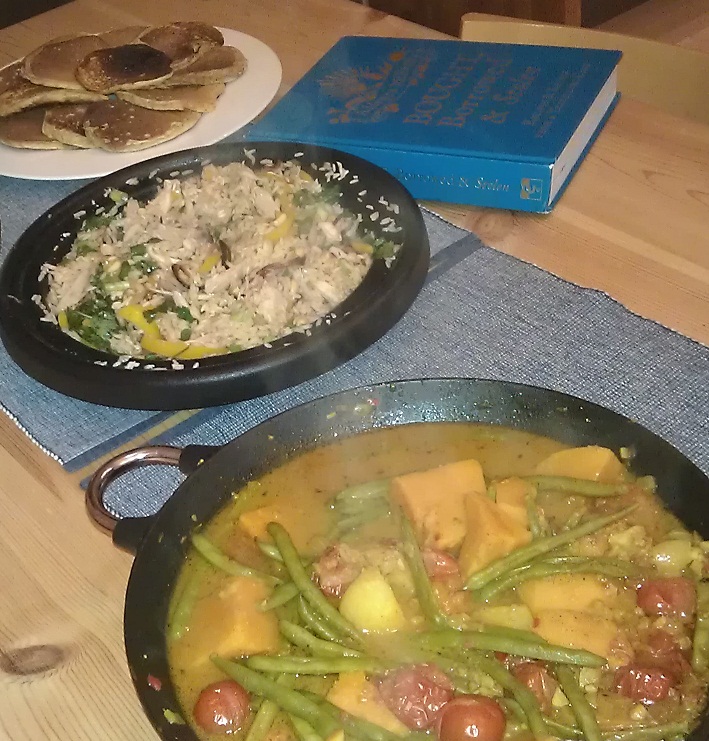 This is the first book by Allegra (of Leon and Economy Gastronomy fame) which doesn't contain her own recipes. Instead she has collated recipes for dishes of particular significance (cultural, historical or nostalgic) she has eaten around the world. She shares recipes with us she was given by people she met along the way (borrowed) as well as those she has recreated (stolen) using her taste memory, scrap book notes and the odd dodgy holiday snap (which, as a nice touch, we can see for ourselves in the book).
Whilst the photography didn't grab us or fulfil its role of enticing us into making the food, once a decision to cook had been made, the food we tucked into was full of bold flavours and simple to make (though we weren't short of leftovers, many of the recipes being for 6 to 8 people and difficult to downscale).
In our short trip, we visited Norway, Malawi, the Philippines, Mexico and a couple of US states sampling salmon and leek soup, chicken and peanut rice, pumpkin curry, homemade peanut butter, pork adobo, green juice, oaty buttermilk pancakes, apple and chicory slaw with pecans and blue cheese dressing and a West Coast ricotta cake. We also shared the stories behind our favourite knives; surprisingly they weren't all kitchen knives.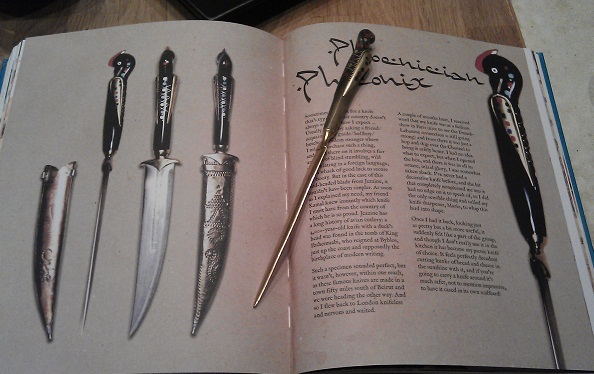 Bought, Borrowed & Stolen is a book I can relate to on several levels. My dad is a geographer; for me every holiday was a fieldtrip and this travelling had a huge influence on my passion for languages and, in part, my fascination with food and cooking. I too was encouraged to write a diary as well as put together travel scrapbooks and photo albums which became increasingly focussed on the food we cooked and ate. The tradition continues today, in my recipe folder, in my, as yet, unshared food diary and on my blog.
The book also serves to confirm that people interested in food do apparently strange and random things – I'm not the only one and I'm not crazy. Or, at least, that's my excuse and I'm sticking to it!