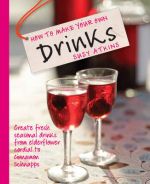 I've often thought of making your own drinks as the pinnacle of domesticity. Something I've dreamed of doing but never put into practice. Now a rare craft, it was on-trend in the seventies and eighties when it seemed that everyone was making their own cordials, wines and beers from anything and everything. If you didn't have several demi-johns of your own gooseberry, or even more strangely, carrot wine, in your pantry or spare room you surely hadn't lived?!
From the arrival of a new book, How To Make Your Own Drinks, by Susy Atkins (you may know her as one of the wine experts on Saturday Kitchen), combined with a renewed interest in foraging, growing your own, seasonality, using local produce, healthy eating and thriftiness, I think there's going to be a revival of the home-made drink industry. The ingredients are cheap (if not free), the methods quick and simple and the results often spectacular. It's all too easy to get the bug!
The variety of alcoholic and non-alcoholic drinks you can make at home is astonishing. There are several suggested recipes for cordials, wines, champagnes, beers, vodkas, gins and teas in each chapter but once you've got the know-how and the inspiration, there are countless possibilities to try.
The book is thoughtfully written with information on how to get started and equipment needed as well as tips on presentation so that you can make drinks to give as gifts and notes on which drinks freeze well enabling you to enjoy a glut of produce in drink form right through the year. Not only are there recipes for the drinks themselves but ideas on what to do with them – cocktails, desserts and food pairings, for example.
There are chapters on drinks you can make with foraged ingredients such as elderflowers, elderberries, blackberries, nettles and even oak leaves. There are recipes for citrus, orchard and summer fruit drinks, floral drinks, wines and grape drinks, teas and even store cupboard infusions. Something for everyone and any occasion.
Down to business! Camping in the Wye Valley last weekend, I spotted elderflowers growing in the hedge at the campsite so keenly picked my first harvest just before heading home. Armed with my new book I'd whipped up my first batch of elderflower cordial within half an hour. Just 24 hours later and I was sipping the fruits of my labour mixed with some sparkling water. Summer is here and it'll be here for a while – there's a large bottle of cordial in the fridge and another in the freezer to keep us going for months.
I've been eager to try making my own ginger beer but have been put off by complicated methods, the need for a plant and the amount of time required to make it. How pleased was I to read Susy's quick and easy recipe using fresh ginger and fast-action yeast, ready in days?! 20 minutes or so of effort and I now have my own ginger beer fermenting. The hardest part is going to be waiting three days before I can drink it. I can't wait to try it mixed with my own elderflower cordial and a squeeze of lime!
I don't yet have the equipment to make the wines and champagnes in the book but I've still got plenty of cordials to get through. In fact, inspired by the recipe for rhubarb wine and spurred on by the success of the elderflower, the next harvest of rhubarb from the garden is destined for the bottle in the form of rhubarb and ginger cordial.
I've a feeling making my own drinks is going to get addictive. Best get onto the solicitor in the morning to chase up our house purchase. I'm going to need more room for all my creations! Bottoms up!