I was feeling greedy again this evening – that is in the mood for some more Two Greedy Italians recipes. You know you've got a good cookery book when you find yourself going back to it time and time again wanting to cook recipe after recipe. I think this is one of a handful on my shelves which is building up to be well-thumbed and splattered.
The dishes I planned to cook when I wrote my book review earlier this month didn't end up being on the menu today. Ah well, I'll have to come back to them another time! Instead I prepared pollo casalingo al vino bianco (housewives' chicken in white wine and vinegar), finocchi gratinati (fennel gratin) and patate arraganate (sliced roasted potatoes with tomato, oregano and basil).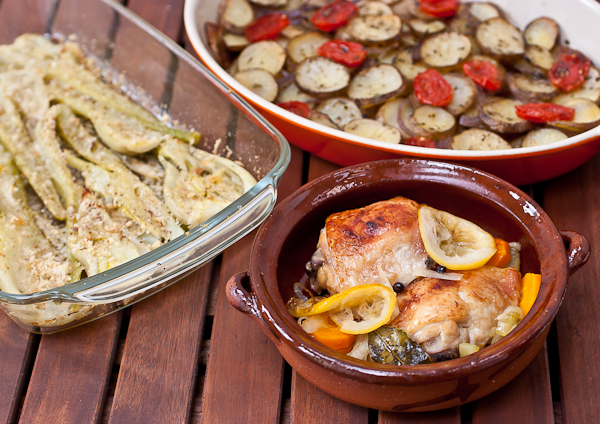 All three dishes were incredibly simple to make. Once the small amount of chopping and assembly were done, they all sat happily on the hob or in the oven (smelling wonderful) whilst I got on with a few jobs.
The chicken recipe comes from the Piedmont region of Italy, and as the story goes farmers' wives would prepare the ingredients in the morning before heading off to work in the fields. When they returned home, all that remained to do was to put the pan on the heat. The scent and flavour of the dish was surprising, tangy from the lemon and vinegar, aromatic from the clove, bay and peppercorns. It was reminiscent of sousing liquor, only the more familiar fish was substituted with chicken.
The fennel gratin had a delicious crisp and savoury topping from the breadcrumbs and parmesan which contrasted with the soft fennel. The potatoes were heady with oregano, crisp where they'd caught on the side of the baking dish and offered an occasional sweet, caramel treat from the red onion scattered amongst the slices of potato. Both complimented the chicken, as they would other chicken and fish dishes.
All in all, tonight's meal was another thumbs up to the Carluccio and Contaldo Italian adventure.