Inspired by recent reads from the Quadrille Classic Voices in Food series and having spotted a few old recipes in Simon Hopkinson's Roast Chicken and Other Stories whilst doing my Cookery Book Supper Club 'homework', I decided to give a couple a go yesterday for our Easter Sunday lunch.
For our main course, breast of lamb Ste- Ménéhould,  the recipe for which appears in the book exactly as it was written in Elizabeth David's An Omelette and a Glass of Wine, including a reference to the cost of the meat in Harrods (8d a pound).
Breast of lamb is a cheap and often overlooked cut of meat which has seen something of a revival in recent times with many a chef extolling its virtues on cookery shows and in food mags. I've come to appreciate the meat again after eating it over the last few months at Flinty Red, the Mi Casa pop up and Abode Manchester, my experiences far removed from my memories of very fatty, stuffed and rolled roast breast of lamb as a child.
The two-part cooking process of this recipe appealed to me since it would surely result in a succulent and tasty piece of meat and ample opportunity to render most of the fat. The lamb is first braised in water with carrot, onion and herbs for a couple of hours (I chose parsley stalks, a sprig of rosemary and a bay leaf as it's what I had to hand and threw in some peppercorns for extra punch). The bones are removed and the meat is left to cool under a weight, after which it's easy to trim off some of the remaining skin and fat if you wish. The lamb is then sliced, brushed with mustard before being egg and breadcrumbed and cooked for a second time.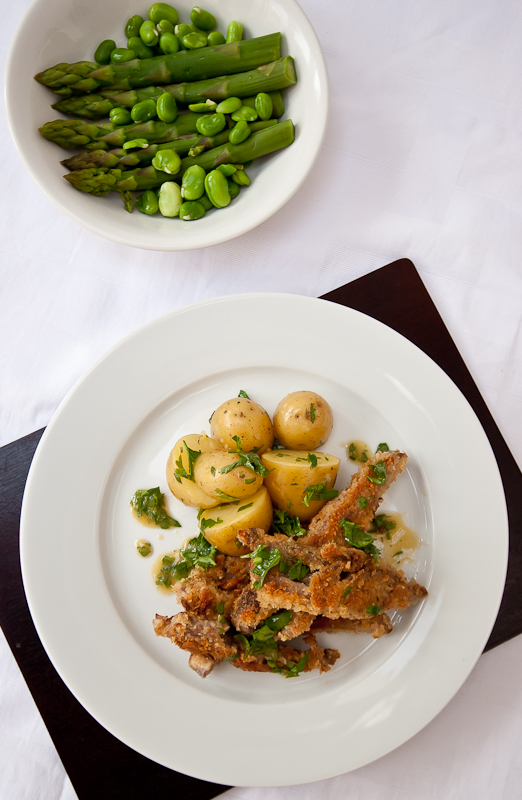 Served with a sharp mustard vinaigrette with plenty of parsley, it was a lovely Easter treat. Breast of lamb Ste- Ménéhould is one of those fantastic dishes which shows that a little can go a long way and that, with a little time and imagination, it's more than possible to eat like a king on a budget.
For dessert I chose to make lemon surprise pudding. This pudding, of which Simon says he never tires, comes from the Four Seasons Cookery Book by Margaret Costa, once owner of a restaurant called Lacy's in London. This being a recipe for a self-saucing pudding, the surprise for my unsuspecting dinner guest would be found when digging the spoon into the pudding; under the sponge there'd be a delicious creamy lemon sauce.
As the cook, I received two surprises! Firstly, the raw mixture is nothing like anything I've come across before and as I was combining the ingredients I was incredulous that this 'slop' could turn into a delicious dessert. I would surely need a miracle to deliver the final surprise but I kept my faith in the recipe!
The zesty wafts coming from the oven were encouraging. I was hopeful that we'd have a refreshing dessert to finish the meal.
SURPRISE!
The surprise was jaw-dropping! Underneath the lemon scented curdled mess was a pool of lemon flavoured water. The pudding was an unmitigated disaster and it was time to raid the fridge for chocolate!
Disappointed and annoyed at the results, I questioned myself and the recipe. I'm not a regular pudding maker so perhaps it was my inexperience showing through? Had I mis-read something? Had I mixed the ingredients in the wrong way? No, I had followed the short and simple recipe to the letter.
A quick Google this morning to see if there was perhaps a typo in the recipe (15g of flour couldn't be right?) led to this amusing Simply Clare blog post on the subject of lemon surprise pudding. I'm not alone. Her experience and those of the numerous people posting comments reflected my own. If only I'd found this before attempting the recipe!
There's a lesson to be learnt from my homework. Breathing a new lease of life into old recipes so that we can continue to enjoy our culinary past for generations to come should be encouraged but it's vitally important to thoroughly test a recipe before it's published.
Never one to be defeated, I'm going to try to rectify the recipe and return it's true element of surprise. Until that time, lemon surprise pudding is a heritage recipe I won't be passing onto my children and grandchildren!