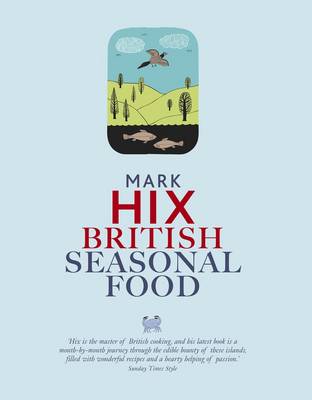 Mark Hix, British Seasonal Food. I couldn't have received this book at a better time. Just as I was really starting to think that winter was never going to end and February's lull of fresh and exciting home-grown vegetables would zap me of all remaining inspiration, I could at last look ahead to March with a gentle reminder of the joys to come with the start of spring.
I felt the excitement bubbling inside of me knowing that soon purple sprouting broccoli would give rise to spring lamb, which would lead on to asparagus, broad beans, peas and then a plentiful bounty of summer produce, before we could harvest soft fruits and tuck into autumn colours and flavours. I almost felt ready to be able to look forward to next winter too, only this year armed with a month by month handbook to keep me sane.
Hix shows us that with a dose of creativity, a bit of forethought, not too much planning, a hunt around the hedgerows or seashores and a good source of meat, fish, fruit and vegetables you can really make the most of the great British seasons. Some may see it as a romantic ideal but why not look on it as a challenge? If we open our minds, there's no reason why we can't achieve at least some of the food lifestyle changes he suggests.
British Seasonal Food is about going back to our roots. It holds an abundance of useful information about ingredients, tips on working and shopping with the seasons, not to mention heaps of encouragement. Hix's passion for British produce is addictive and really shines through in the recipes. Classics, such as faggots, are brought up-to-date, quick and simple meals like cabbage and bacon soup, are combined with the more elaborate, there are inventive demonstrations of under-used cuts of meat and fish (fish collar curry or cod's tongues perhaps?) and every dish shows off produce at its best. All this will ensure I pull his book off the shelf at least once a month ahead of any other!