This month's Cookery Book Supper Club book is Moro: The Cookbook. To kick off proceedings I made charcoal-grilled quail with pomegranate molasses.
OK, so I improvised a little with chicken thighs instead of quail and a domestic grill instead of a barbecue (the book does say that quail is an alternative to chicken and being unable to get hold of any of the wee birds and it being almost winter I felt justified in my substitutions) but I think it still counts as a recipe test in preparation for book club!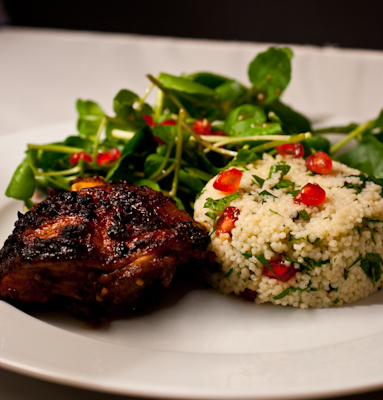 It's a Lebanese recipe in which the bird is marinated in sticky pomegranate molasses and fragrant spices then slowly grilled. It is tangy, succulent and absolutely delicious.
The recipe says to serve the meat with a watercress and pomegranate seed salad and a pomegranate molasses dressing. The salad and dressing were amazing but served with the marinated meat, we really did get a good old slap around the taste buds, even with my own delicate herby couscous to calm things down! I'll definitely make them again but I think I might hold off on the double whammy next time!
In case you're up for giving your taste buds a wake up call and are wondering where you can get your hands on pomegranate molasses, try Souk Kitchen on North Street, where they have a small shop area, recipe cards, as well as a wonderful restaurant. For those not local to Bristol or who'd rather buy online you can find it at Maroque. Be warned you may well spend a fortune on ingredients, cookware and bits and pieces for around the home!